Ingrid Knight & Adam Booker | Jazz Duo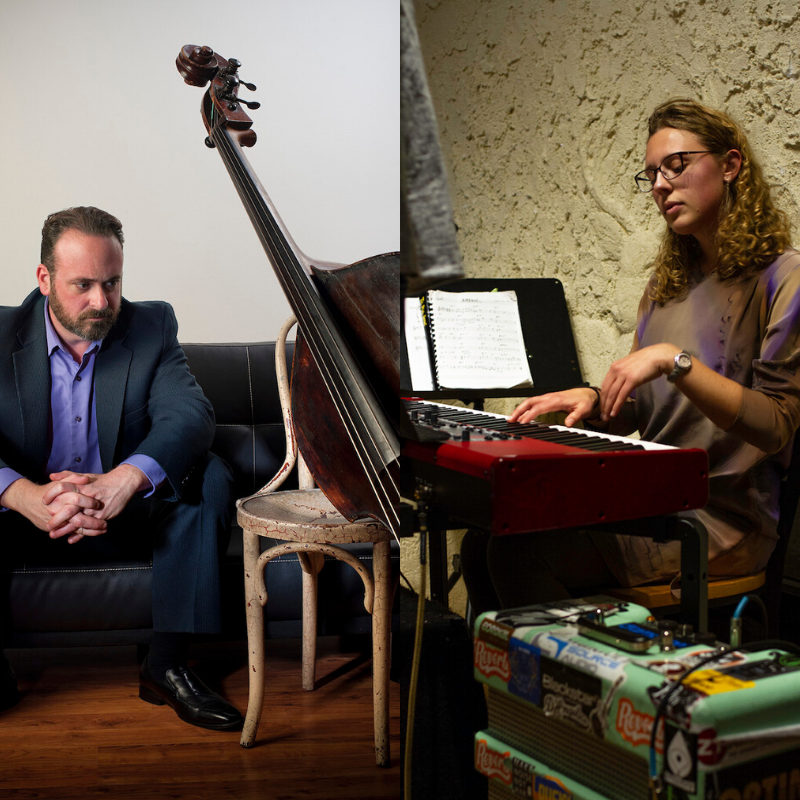 June 21, 2020 | 4:00 - 6:00 pm
Ingrid Knight: Originally from Boone, North Carolina, Ingrid started playing piano at the age of six. Music was a very important part of her childhood and adolescence and she felt deeply connected to the piano from a young age. Always interested in interdisciplinary studies, Ingrid graduated from Appalachian State University in 2015 with a triple major in Piano Performance, Religious Studies, and Spanish. She travelled extensively in Europe and Latin America in her young adulthood which helped to form her unique perspective on the world. Fascinated by the intersections between music, language, religion, and culture, Ingrid was inspired by exploring her European roots in Spain and teaching children in an orphanage in Bogotá, Colombia. Between 2015 and 2019, Ingrid taught and performed extensively in Boone, NC. Specializing in both classical and jazz piano, she was employed at Appalachian State University as an accompanist and was the pianist in the Adam Booker jazz trio. She also formed a Latin jazz duo, Também, which performs regularly across North Carolina. Ingrid's life took a big turn in 2019 when she decided to enroll in North Carolina Central University's Jazz Studies program and move to Durham. Currently pursuing her Master of Music in Jazz Composition, she enjoys having the opportunity to explore her greatest passion in life: the creation of new music.
Listen to Ingrid play All Blues, a Miles Davis cover
Adam Booker: Dr. Booker is the current Assistant Professor of Double Bass at Appalachian State University in Boone, North Carolina. His performance credits include the Minnesota Orchestra the Duluth Superior Symphony Orchestra and the Johnson City Symphony. He has also performed with several of jazz's great masters, including Al Grey, Frank Foster,John Fedchock, Russel Malone, Butch Miles, Diana Krall, Ingrid Jensen, Christine Jensen,and pop music icon, Elvis Costello. Apart from being a sideman on numerous recordings, Dr. Booker's first album as a leader, Unraveled Rival, was released under the Shifting Paradigm Records label. His latest album, Seven Last Words, released in January of 2020, seamlessly blends his compositions in the form of a jazz mass with the unaccompanied double bass work, Seven Last Words From the Cross, by UK composer, David Heyes.
His research in Early Jazz Double Bass Performance Techniques has been presented at conferences for organizations such as the Jazz Education Network, the International Society of Bassists and at the 2016 European Double Bass Congress in Prague, as well as the 2018 European Double Bass Congress in Lucca, Italy. Most recently, Dr. Booker has completed a tour in Europe at the behest of the Scottish Bass Trust, which included workshops and recitals in Edinburgh, St. Andrews, and Well's Cathedral in the United Kingdom. The tour also included a three-day residency at the Royal College of Music in London, and a residency and recital at the Boccherini Institute in Lucca.
Dr. Booker has earned a Doctor of Musical Arts in Jazz Double Bass Performance from the University of Texas, Austin, as well as a MM in Composition and a BM in Jazz Studies from Texas State University, San Marcos.