"Through Their Eyes": traditional Cherokee storytelling and flute with Matthew Tooni | All-ages Concert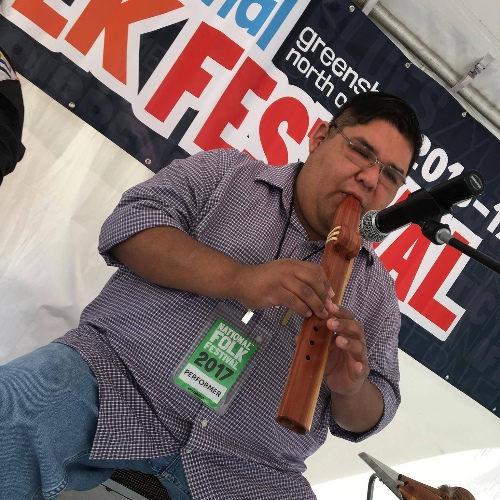 Native American flutist and storyteller Matthew Tooni will deliver two performances at BRAHM on Saturday, April 6th. There will be a 30-minute children's program at 11 am, followed by a craft and then a 45-minute all-ages performance at 2 pm. The performances will include traditional songs and folklore of the Eastern Band of Cherokee as well as some of Tooni's original compositions.
Tooni is a virtuoso flutist and a master storyteller, this event is a must see!
The performances are free and open to the public and presented by the Watauga Arts Council and BRAHM.
About the Performer
Matthew Tooni grew up on the Qualla Boundary, the tribal lands of the Eastern Band of the Cherokee Indians, and continues to live there in the Painttown community. His brother John Tooni, and their parents Carolyn and Larch Tooni, share Matthew's interest in and appreciation for Cherokee traditional culture. The brothers became cast members of Unto These Hills, the famous outdoor historical drama performed for generations on the Qualla Boundary. He played traditional Cherokee flute in the play, and delivered his lines in the Cherokee language.
Tooni recorded an album, Through Their Eyes, Vol. 1, in 2017, and was subsequently nominated for a NAMMY (Native American Music Award) for Flutist of the Year. He performed at the National Folk Festival in Greensboro in the fall of 2017. Tooni is also a member of the Medicine Lake Traditional Dancers, a heritage dance group descended from the Raven Rock Dancers, founded in the 1980s by Walker Calhoun.
Speaking in 2017 to the Cherokee One Feather, Matthew Tooni described the role of music in his life. "My music is something that has become very important to me. I know that sounds cliché, but it's true. I have found an exceedingly great amount of inspiration from my culture. I believe that it helps me to express what I feel about that particular subject. Everything that comes from our hearts is genuine inspiration. That's what my music is to me."