Summer Concert Series: Alexa Rose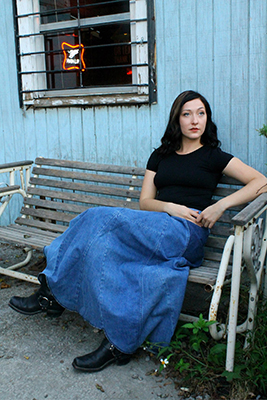 Join us on Sunday, September 9th at 4:00 pm for a performance by Alexa Rose.
About the Artist
Alexa Rose has the rare ability to find strikingly original melodies that nevertheless sound like they must have existed for a long time, stored away maybe in the ether of creativity, self-evident and awaiting discovery. Moving deftly between complex dexterity and heart-tugging familiarity, Rose achieves a sound that pushes gently alongside the bright vocal experimentalism of Joni Mitchell and Joanna Newsom while maintaining the brassy attitude and simple refrains that run straight through American roots music from mountain ballads to rock n roll.
Rose spent her formative years curating original music in the Blue Ridge, releasing two albums in her early twenties. You can often catch her sporting her dusty Frye boots in some southern lagoon, or on the regional radio stations that spin her latest full-length release, "Low and Lonesome." Written on a hand me down guitar from her mother, the title track is a toast to Rose's heritage, and its anthem-like chorus haunts the listener with a somberness evocative of Gillian Welch.
Amidst the sea of earnestly soft-sung songs on the Americana circuit, Rose's voice stands out with depth and complexity, capable of gymnastic yodels and deep resonance. Rose's sound evokes the likes of Hurray for the Riff Raff and Margo Price, but she cultivates her own hard-working perspective without imitation or posturing. What separates her from the crowd is a tangible, relatable sense of hunger and realism about the sacrifices of the road, the elusiveness of fulfillment, and the bittersweetness of dreams.
Her band currently tours under the moniker, Alexa Rose & The Midnight Stringbird, and delivers heartfelt performances with stringed instruments and warm family-style harmonies. Since Rose began her run as a touring artist last year, she and her bandmates have shared stages with Jessica Lea Mayfield, The Ragbirds, and The Wild Reeds. Her song "Lottery Ticket" was featured WNCW's Midnight Folk pick of the week, and "Borrow Your Heart" was a finalist in the 2017 Chris Austin Songwriting Contest. In October 2016, Rose won Asheville NC's Brown Bag Songwriting Contest.
When asked which aspects of her music she hoped listeners would take away, Rose answered: "A sense of place of which they are a part. Once, after a show, an audience member said to us, "I felt like I was sitting on my grandparents' porch listening to June Carter!" While we aren't playing Carter Family covers or really presenting traditional music, we are mountain people curating art that is inseparable from our upbringing in the regional music and tradition of Appalachia and of the American South. This informs not only our playing style, but also the way we tell the stories within the songs — from homegrown tomatoes to heartbreaks. We want people to feel as good listening to our stuff as we feel when we play it." (Alexa Rose, Asheville Downtown Association Q&A, June 2017).
Our concert series brings touring artists for intimate performances in the museum. Programs range from classical to old-time, traditional Appalachian to jazz - with something for all ages. Our concert series runs monthly from June to September, as well as special events.
Concerts are on Sundays from 4 p.m. until approximately 6 p.m. They take place in our intimate Atrium, which seats 60 guests. Seating is first come, first served and the museum opens at 1 p.m. on Sundays during the summer. Each concert will have a brief intermission.
Ticket Info
Tickets for the 2018 season are now on sale and can be purchased online or in person at BRAHM's front desk during regular museum hours.
Advance Purchase: $13, members, students, seniors, military, EBT cardholders / $18 all others
Day of Show: $15, members, students, seniors, military, EBT cardholders / $20 all others
*Day of show tickets only available at the BRAHM front desk. Call us at (828) 295-9099.**
**All ticket sales are final**