TAC Talk. Jeffery Beam presents Jonathan Williams: Lord of Orchards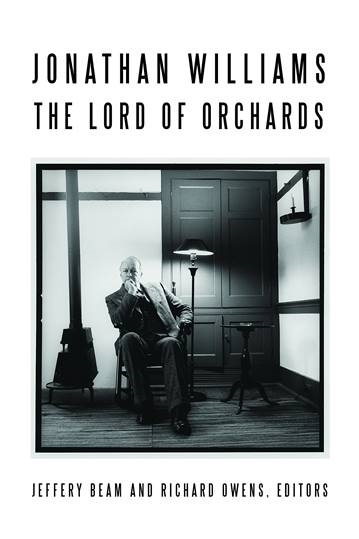 This talk will be $5 for the general public and FREE for members.
Book Reading and Signing: Jonathan Williams: Lord of Orchards (Prospecta Press, 2017) with co-editor Jeffery Beam
Join poet Jeffery Beam as he discusses poet Jonathan Williams, one of the last students at Black Mountain College. Williams was an early and sometimes first-time publisher for many of the writers who became known as the Black Mountain Poets. Eventually his press championed scores of other avant-garde and ignored writers and artists of the 20th century. This talk is presented in conjunction with BRAHM's exhibit about Black Mountain College (Nov. 24, 2017 - April 7, 2018) and with Appalachian State University's Black Mountain College Semester.
Jonathan Williams' work of more than half a century is such that no one activity or identity takes primacy over any other—he was the seminal small press publisher of The Jargon Society; a poet of considerable stature; book designer; editor; photographer; legendary correspondent; literary, art, and photography critic and collector; early collector and proselytizer of visionary folk art; cultural anthropologist and Juvenalian critic; curmudgeon; happy gardener; resolute walker; and keen and adroit raconteur and gourmand.
Williams' refined decorum and speech, and his sartorial style, contrasted sharply, yet pleasingly, with his delight in the bawdy, with his incisive humor and social criticism, and his confidently experimental, masterful poems and prose.
His interests raised "the common to grace," while paying "close attention to the earthy." At the forefront of the Modernist avant-garde—yet possessing a deep appreciation of the traditional—Williams celebrated, rescued, and preserved those things he described as "more and more away from the High Art of the city," settling "for what I could unearth and respect in the tall grass." Subject to much indifference—despite being celebrated as publisher and poet—he nurtured the nascent careers of hundreds of emerging or neglected poets, writers, artists, and photographers.
Recognizing this, Buckminster Fuller once called him "our Johnny Appleseed", Guy Davenport described him as a "kind of polytechnic institute," while Hugh Kenner hailed Jargon as "the Custodian of Snowflakes" and Williams as "the truffle-hound of American poetry." Lesser known for his extraordinary letters and essays, and his photography and art collecting, he is never only a poet or photographer, an essayist or publisher.
This book of essays, images, and shouts aims to bring new eyes and contexts to his influence and talent as poet and publisher, but also heighten appreciation for the other facets of his life and art. One might call Williams' life a poetics of gathering, and this book a first harvest.
About the Speaker
Native North Carolinian Jeffery Beam's many award-winning works include The Broken Flower, Gospel Earth, Visions of Dame Kind, An Elizabethan Bestiary: Retold, The New Beautiful Tendons, and The Fountain. His spoken word CD What We Have Lost: New and Selected Poems 1977-2001 was a 2003 Audio Publishers Award finalist. The song cycle Life of the Bee (composer Lee Hoiby) continues to be performed on the international stage and can be heard, along with a Beam reading of the texts, on Albany Record's New Growth, a recording of the Carnegie Hall premiere. Young composers Steven Serpa and Holt McCarley continue composing for his poems, the most recent being performances of two works by Serpa last year by the Austin Symphony Orchestra and Austin Opera. 2015 saw the premier of Family Secrets, a Daniel Thomas Davis song cycle commissioned by soprano Andrea Moore, with Beam's Porch Song, and texts by other noted North Carolina authors. Forthcoming is Spectral Pegasus, a collaboration with Welsh painter Clive Hicks-Jenkins, his first children's book The Droods, with British artist Phil Cooper, and as editor of a major collection of critical essays Jonathan Williams: The Lord of Orchards.
Poetry editor emeritus of the print and online literary journal Oyster Boy Review, Beam retired in late 2011 from many decades as a UNC-Chapel Hill botanical librarian. He and his husband live in Hillsborough, North Carolina, and include frequent visits to their cabin on Flat Top Mountain. You can learn more about, read and hear more of his poetry Jeffery Beam.