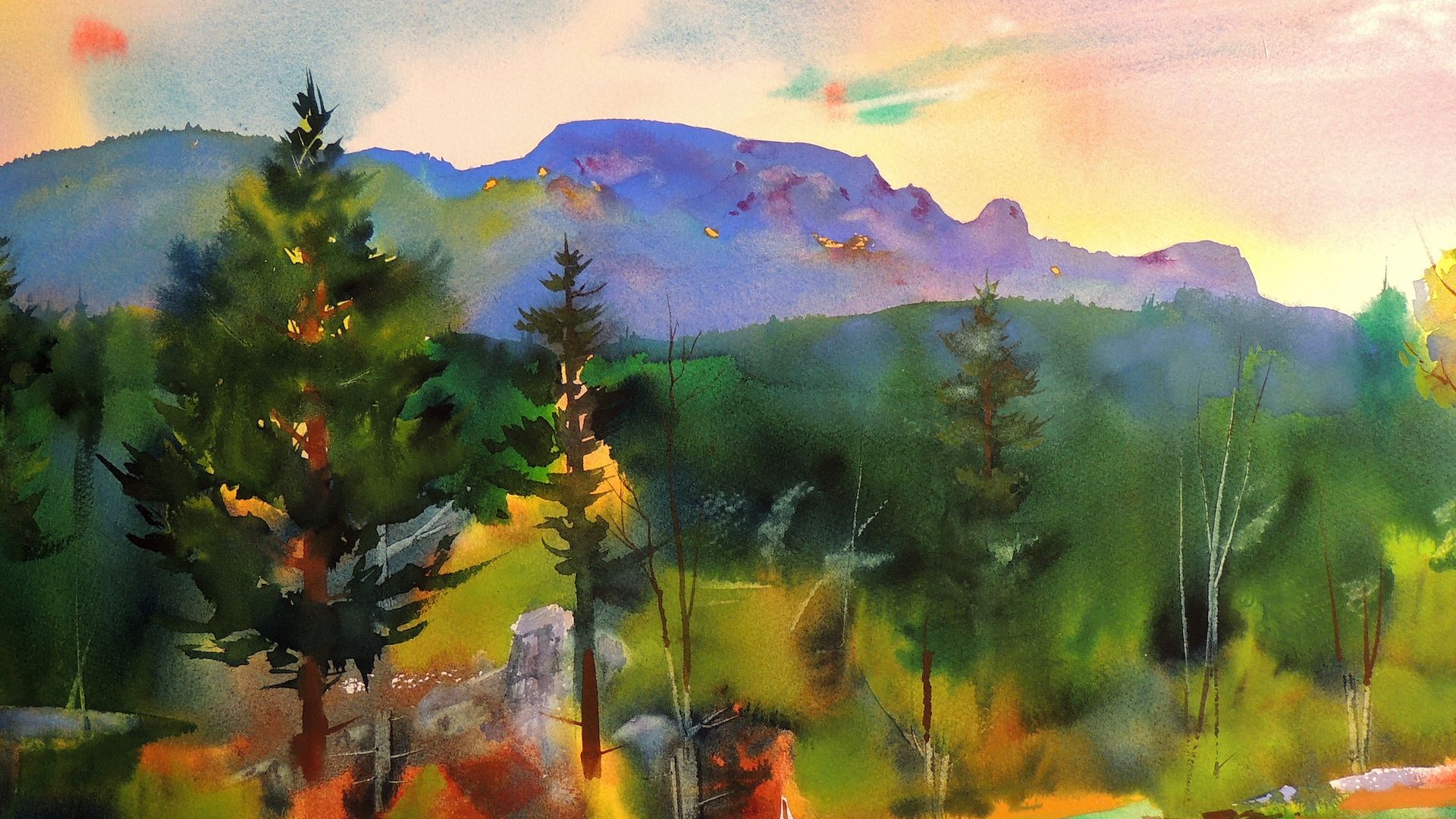 Wes Waugh 3-Day Workshop: Painting Bold and Controlled with Watercolor
Wed, June 24th - Friday, June 26th, 2020
Time: 10:00 am - 4:30 pm each day (with daily one-hour lunch break)
Cost: $295 for BRAHM members |  $325 for general public 
Please note: There are only 14 spots available, so register today!
Ideal for: Intermediate Level preferred (beginners with some level of experience OK)
Workshop Description
This 3-day class will cover the basic concepts of painting with watercolor but will emphasize the importance of learning to control pigment mixtures and washes for painting bold and luminous landscapes. Wes teaches and demonstrates a number of techniques and strategies to help those struggling with watercolor success issues.  Participants gain a better sense of what is happening on their paper during critical times, and thus can avoid some common pitfalls. 
A few guided exercises early on will allow participants to create the conditions needed for an effective wet-into-wet approach. Wes will clarify the subsequent stages we work through in order to "finish out" a painting as the drying process proceeds.  Wes's teaching focuses on understanding process as a means of achieving natural and expressive results. Participants will be challenged to think like an artist, but fully supported in experimenting and taking risks as they explore the possibilities with this medium. 
Additional topics addressed in the workshop will be: Value Relationships, Color Harmony, and Key Composition and Design Principles. Wes teaches with the goal of providing participants with tools and a base of concepts necessary to develop further as a unique artist.  However, having fun, posing realistic expectations, and supporting exploration of the medium, reduces the intensity and allow for a pleasurable and inspirational experience.
What to Bring
Artist and workshop instructor Wes Waugh has suggested participants bring the supplies and materials found here.
Please note: If a participant is unable to purchase everything on the suggested supply list, Wes says, "do not despair... we will get you through the workshop in an enjoyable fashion with what you are able to bring"
About Wes Waugh

Wes Waugh is a watercolor landscape painter who has made the North Carolina High Country his home for the past 33 years. He began painting at the age of twelve, has held over fifteen exhibitions, and has served as a workshop instructor, product consultant, guest presenter, and juror for a number of art-related businesses and organizations over his painting career.  Simultaneously, Wes has held a full-time teaching and administrative position at nearby Appalachian State University, citing equal devotion to both career settings and "the inability so far to choose one over the other". He is also active as a wilderness conservationist and currently serves as the Executive Director of the nonprofit organization "A Clean Wilson Creek", dedicated to the protection and preservation of this North Carolina National Wild and Scenic River south of Grandfather Mountain.
Wes describes his artistic influences as diverse, yet rooted in the translational and design influenced watercolor landscapes of the late Eliot O'Hara and Edgar Whitney, both mid-20th century American watercolor masters. The Edgar Whitney "Tools and Rules" of design principles and concepts still hold a prominent role in his teaching approach. While few subjects are off-limits, Wes is well known for his bold and "colorist" approach to landscape painting. He not only enjoys sharing techniques for how he achieves these results, but also discusses the important and sequential thought processes involved. As a counseling/psychology professional, the "mindset" we develop as aspiring artists is of great interest and plays a key role in his teaching activities and discussions. 
Wes was published in the art journal "The New Palette" #61, with an article entitled: "Watercolor, Wet-into-Wet Demystified". This was in the April-June 2017 edition.  For this complete article, a full curriculum vitae, and a Juror's Statement publication please visit his website: Beartrailart.com and the News and Workshops blog link.