Crafting with the Southern Highland Craft Guild: Intro to Lace Chair Caning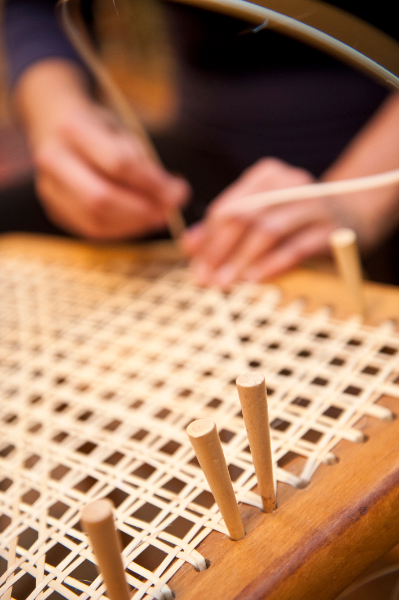 ***This event is being cancelled due to low registrations. If you wish to learn more about Silver River Chairs, please visit https://silverriverchairs.com/***
Have you ever wanted to learn how to repair your caned chairs? Join Brandy & Dave of Silver River Chairs for a crash course on the 7-step method of chair caning. All tools, materials, and projects are provided. Participants are encouraged to bring projects for advice and guidance after the workshop.
$75 for BRAHM members and $85 for non-members.
• In-depth demonstration followed by hands-on practice.
• We provide all chairs, tools, materials.
• Students can bring their chair in for advice at the end of the workshop.
• Bring a bag lunch or snack.
About Silver River Center for Chair Caning
Our mission is to cultivate and inspire a reverence for a worldwide chair caning legacy. Our vision is to promote an enthusiasm for the craft through education, restoration, and travel.
We are a couple of chair nerds on a mission to dispel the myth that chair caning is a dying art. We want to empower everyone to learn to restore their own chairs. And so, we expanded our chair caning restoration business into Silver River Center for Chair Caning, the nation's only chair caning school and museum! We are proud to honor a family tradition, the craft, and all chair nerds (past, present, and future) with Silver River Center for Chair Caning.
Limited seating available. An 80% refund will be issued if the participant cancels by two weeks prior to the event. For cancellations made less than one week prior to the event, BRAHM will issue a refund IF the museum is able to fill the vacated spot.