Ward Nichols: Look Again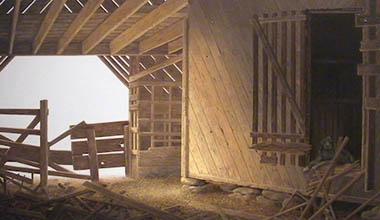 Rankin West Gallery
A native of West Virginia, Ward Nichols (b. 1930) made his home nearby in North Wilkesboro, NC. His hyper-realistic paintings are visualized from photographs he takes of everlasting landscapes, abandoned structures, and everyday objects. Spend a little more time with his paintings, however, and Nichols offers rewards through quirky details, such as humorous compositions, nonfunctional door hinges, and hidden eyes that lock unexpectedly with those of the viewers. Ward Nichols: Look Again encouraged visitors to ponder the mundane and experience the beautiful within it.
Ward Nichols is represented by Blue Spiral 1, Asheville, NC.
** Photo Credit: Ward Nichols. Old Blue. Oil on canvas. Photograph (C) Blue Spiral 1, Asheville, NC.