The 152nd Annual International Exhibition of the American Watercolor Society

May 3 - July 21, 2019
BRAHM is excited to be hosting the American Watercolor Society's traveling exhibition. The American Watercolor Society is a non-profit organization, based in New York City, that began in 1866 to promote the art of watercolor painting in America.  Each year, they hold a juried exhibition of watercolor paintings from artists throughout the world and travel this show to six locations.  We are privileged to be a host site for this exhibition in 2019.  The exhibition features the work of 40 artists, highlighting many varied artistic styles. 
The American Watercolor Society is one of the oldest and most prestigious art societies in the world.  Indeed, election to the Society as a Signature Member is one of the most sought-after honors in the painting world.  AWS Membership comprises many of the greatest names in painting throughout the Society's history and includes (to name drop a few) the American impressionist Childe Hassam, regionalists Edward Hopper and Charles Burchfield, plus virtually every member of the important "California School" of watercolorists, and everyone in between, up to and including the late Andrew Wyeth.  
    "We stand a far distance from December 5, 1866, the Society's founding day," said Antonio Masi, AWS President and himself an internationally celebrated artist. "And we know that the passage of time has validated our founders' work and values."
    AWS's annual Exhibition is one of the most revered watercolor exhibits in the world.  More than 1,100 artists from throughout the United States and 33 foreign countries submit their work to a panel of jurors chosen from Signature Members of the AWS.  Of these submissions, 122 paintings were selected for the exhibition. Forty paintings from the show were selected for the Traveling Exhibition, which will tour six museums and galleries across the country during the next year.  For the schedule of the Traveling Exhibition and to view images of the prize-winning entries, visit www.awsinc.org.  
    While inclusion in this exhibition is itself an honor, participants also compete for the Gold, Silver, and Bronze Medals of Honor, and 29 other awards and medals totaling nearly $50,000 in prize money.  
Image Credit: (above)Silver Medal Award Winner from 2018. "Flickering Light Along the Ridge Trail" by Stephen Quiller, AWS, D.F., from Creede, Colorado. Courtesy of the American Watercolor Society, NY.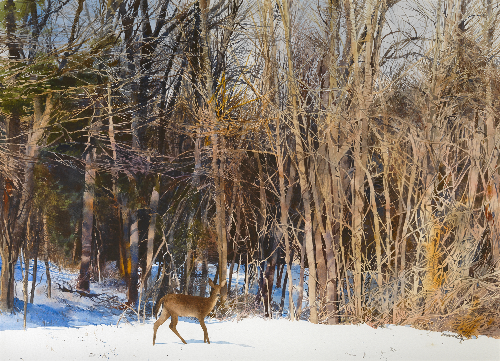 Image credit: Bivenne Harvey Staiger, Cromwell, CT, "Oh, The Tangled Woods She Leaves" winner of Silver Medal of Honor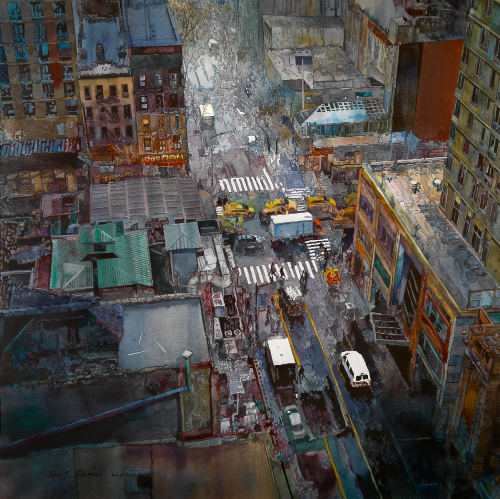 Image credit: John Salminen, AWS, D.F., Duluth, MN, "Grey Gotham" winner of High Winds Medal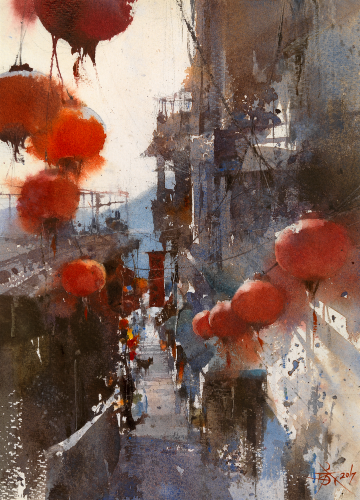 Image credit: Chung-Wei Chien, AWS, D.F., New Taipei City, Taiwan, "Ambience of Jiufen" winner of Bronze Medal of Honor
Sponsored by: