Jerry Burns: Through the Lens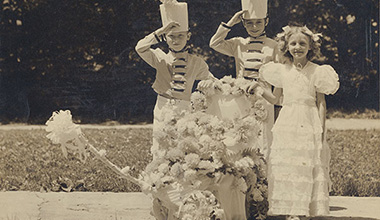 The Blowing Rock Art and History Museum (BRAHM) was proud to present an exhibition on "Mr. Blowing Rock" himself, Jerry Burns. The exhibit, Jerry Burns: Through the Lens, was presented in collaboration with the Blowing Rock Historical Society. Nearly 200 photographs of the town and community were displayed, many of which were taken by Jerry during his time as editor of the Blowing Rocket newspaper.
Jerry Burns was rarely seen without a camera. He was known for his modesty, and as such, he preferred to be behind the scenes, taking in the action and capturing in every photograph the town that he so loved. With nicknames like "Mr. Blowing Rock" and "Mr. Sunshine," it's easy to see that the community appreciated Jerry just as much in return. His work and dedication to the town became a symbol to the community for what it means to be a Blowing Rock citizen.