The Maker's Table: The Essence of Place, Mountain Tapestries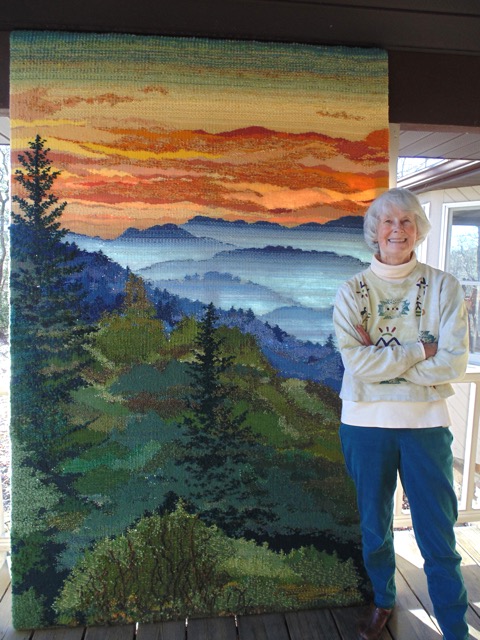 In her presentation, Sandy Adair will demonstrate a tapestry weaving in process explaining the steps from start to finish on how to complete a tapestry. There will be several storyboards available showing processes. A free fact sheet that Sandy created will be available showing how to create a frame loom, warp it, create a line drawing from your photo, take it off the loom and complete the tapestry. 2 small looms will be available for anyone who cares to try their hand at weaving. A discussion, question and answer period follows. Any interested person in attendance is invited to participate.
This event is presented to the community by Wells Fargo. Southern Strands: North Carolina Fiber Art is made possible by a grant from the Blue Ridge National Heritage Area Partnership.
About the Artist
A statement from the artist Sandy Adair...
As an artist and member of Southern Highlands Guild I have sold and demonstrated my work on the Parkway for 32 years. Also being a local Park Ranger for 15 years, this wild, mountain place has become more and more precious to me and is my artistic inspiration. As a visual artist and a lover of natural landscape, I seek to capture the nuances of the natural world in its ever-changing light, shadows and its sense of peace.
Our great Boone adventure began in 1976 safely arriving in an old VW van carrying 2 kids, 4 cats, goldfish and terrarium plants after treking up these mountain roads. In partnership with glass blower, Guild member and friend Jak Brewer, in the Rainforest Plant, we created terrariums and sold ornamental house plants.
With a minor in art from University of South Florida I was intrigued with fiber art. I progressed from macramé plant hangers, wall hangings to hand woven wall hangings then loom weaving and finally fine tapestry. It has been a continuing joy for me through these years.
In my tapestry work begin each of my landscape tapestries the same way. I work from landscape photos, often selected by clients for commissions. I create a line drawing from the photo, select yarns, and begin the slow work of laying in one line of yarn at a time, building the woven structure of the tapestry fabric and creating the image of the landscape.
Small tapestries I've created, both of the mountains and the coast, will be for sale as well as my mountain and ocean note card Collections. Larger ones are available at Parkway Craft Center, Folk Art Center and Biltmore Gallery. I hope you enjoy the presentation and that it will encourage you to try your hand at tapestry! It is a joy and a balm for me in this much too busy world.
The Southern Highland Craft Guild presents, The Maker's Table, a monthly program where we invite you to spend an evening with a master crafter while they share the ins and outs of their trade.
Free for museum members, $5 for non-members.