The Maker's Table: The Strength of a Single Thread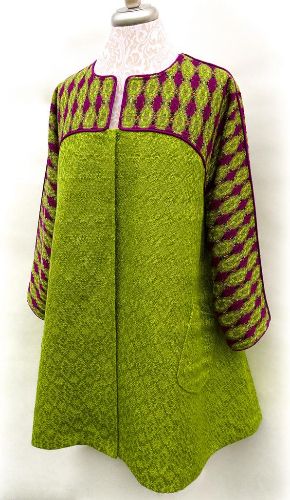 Paula will focus on the process of weaving and its link to the ancient history of weaving which has remained largely unchanged over thousands of years. She will touch upon modern techniques such as painted warp and woven shibori drawing from many world cultures. She will also discuss the development of pattern and its interchange with color, the foundation of her work. She will have examples of these techniques and finished garments and scarves to help elucidate her love of the entire process and of the craft of weaving itself.
This event is presented to the community by Wells Fargo. Southern Strands: North Carolina Fiber Art is made possible by a grant from the Blue Ridge National Heritage Area Partnership.
About the speaker
Recently graduated from Wellesley College with a major in Art History, Paula Bowers fell head-over-heels in love with weaving from the first moment she walked into the Fashion Institute of Technology in NYC. A vibrantly colored "wall of yarn" with begging to be touched textures, a group of complex looking looms, and a sewing room next door which offered the potential to turn hand woven fabric into wearable art, were fascinating. Joining the continuum of the ancient craft of hand weaving felt natural to Paula, and many years later she still deeply enjoys her time behind the loom and the maintaining of a full time professional art weaving studio. Paula is originally from Cape Cod, Massachusetts and is proudly a member of the Southern Highland Craft Guild where she is a member of the Education Committee and serves as Chair of the Mentoring Sub-Committee.
The Southern Highland Craft Guild presents, The Maker's Table, a monthly program where we invite you to spend an evening with a master crafter while they share the ins and outs of their trade.
Free for museum members, $5 for non-members.