September 4-7, 2018 -- The Connoisseur's Cincinnati -- Cincinnati, OH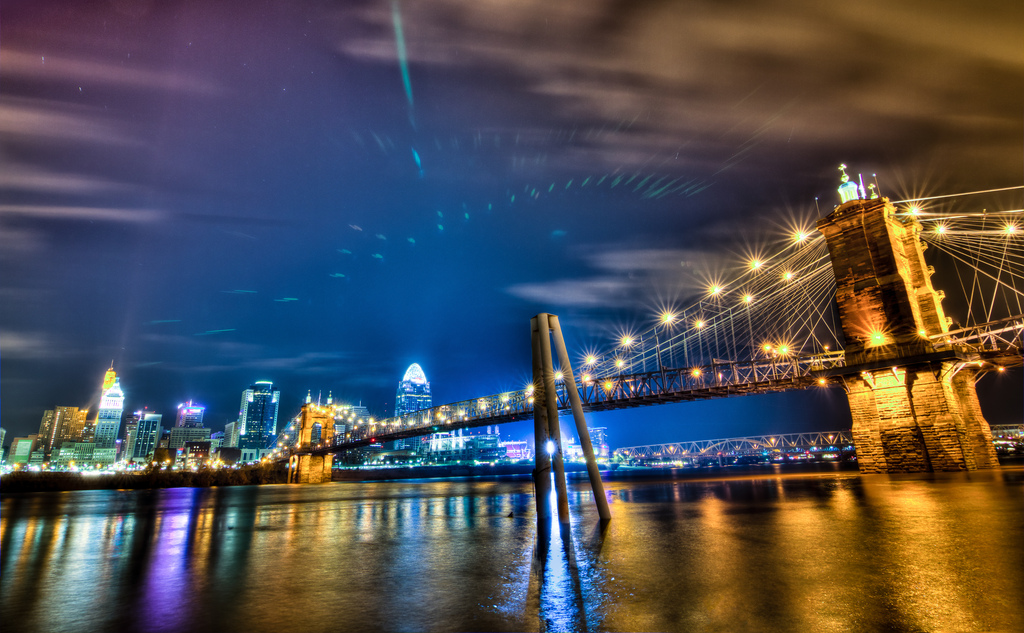 The Blowing Rock Art and History Museum Presents The Connoisseur's Cincinnati -- September 4-7, 2018
BRAHM has created a wonderfully personalized visit to Cincinnati, Ohio and we hope you will plan to join us. We depart Charlotte on Tuesday morning, September 4 from Charlotte Douglas Airport on a direct American Airlines flight to Cincinnati. Upon arrival at the Cincinnati Airport we will be transferred to center of the city to visit the National Underground Railroad Freedom Center. This Museum recounts this historic chapter in America's history. Following this visit we are transferred to our hotel for the next three nights the Hilton Netherlands Plaza. Your evening is left free and you will be provided with restaurant suggestions in the area of the Hilton. Lunch
Wednesday, September 5 –Today will begin with a visit to a location that is still be finalized. Our next stop will be the Cincinnati Museum of Art where our visit will concentrate on the Cincinnati Gallery. After our docent-led tour we will have lunch in the Museum's Terrace Cafe. Free time is allowed after lunch to explore Cincinnati as you choose. This evening is certain to be one of the high points of this special visit. We begin with a visit to two outstanding private collections. Our hosts have asked that their names remain private for security reasons, but we can assure you that these large and diverse collections will "blow you away". Dinner tonight will be at the home of Gloria Lipson and hosted by Gloria and Lou Gottlieb. Lunch, dinner
Thursday, September 6 – This morning we will travel north of Cincinnati to visit the unique National Sign Museum. Following that, we will have a fascinating tour of historic and lovely Spring Grove Cemetery with a step on guide. After this busy morning we will be treated to a delicious, buffet lunch at the very popular French Crust restaurant located in the bustling Findley Market area of Cincinnati. We depart the Hilton late afternoon for another highlight evening. We head to the Village of Indian Hill where we will enjoy a home tour of the restored country home of John Shepherd. Mr. Shepherd's collection reflects his personal taste and we think you will enjoy his eclectic choices. Dinner will be hosted by Lee Carol Giduz's parents, Lee and Hazeleen Brewster, nearby at Camargo Country Club. Lunch, dinner
Friday, September 7 – Our last day in Cincinnati begins with a step-on guide who will introduce us to the fantastic, cutting-edge murals that enhance the city center. We continue with a visit to the Taft Museum for a docent-led tour. Lunch will be included in the Taft café. After lunch we are transferred to the Cincinnati Airport for our direct flight to Charlotte arriving at 6:35pm. Lunch
Cost Per Person
Double Occupancy - $1545 Single Occupancy - $1835
To Register: Complete the enclosed registration form and mail it with your full payment to (make checks payable to Old World Travel) to Old World Travel, 129 Ridgewood Avenue, Charlotte, North Carolina 28209. You may also make your payments by credit card. Registrations paid by credit card can be emailed to oldworldt@gmail.com. For additional information contact Kathy Price at Old World Travel at (704) 372-0340. Space is limited to 22 participants and reservations will be accepted on a first-come, first-served basis.
IMPORTANT: The airlines are now requiring that we have a copy of the passenger's driver's license before airline tickets can be issued. Check with Old World Travel at 704 372-0340 to see if we need a copy of your license or if we have a copy on file.
Included Features: Roundtrip coach class airfare from Charlotte to Cincinnati by nonstop American Airlines; private motor coach transportation for included Cincinnati events; three nights hotel accommodations at the Hilton Netherlands Hotel – deluxe rooms; taxes and gratuities on included features; four lunches; two special dinners; activities as described in the itinerary; luggage handling for one bag per person at the hotel; escorted from Charlotte; donation to BRAHM in the amount of $150.00.
Tour Costs: Prices are based on rates in effect on May 29, 2018 and are subject to change.
Refunds and Cancellations: Cancellations received prior to June 20, 2018 will receive a full refund less a $25.00 per person handling fee. Cancellations received between June 20 and September 4, 2018 will be subject to penalties for all non-recoverable costs not to exceed the full cost of the trip. Trip cancellation insurance is available through Old World Travel and is strongly recommended. Information on travel insurance will be mailed to you the week prior to June 20, 2018.
Current Flight Schedule
Tuesday, 4 September AA 5091 Charlotte to Cincinnati 11:45am-1:13pm
Friday, 7 September AA 5407 Cincinnati to Charlotte 5:05pm-6:35pm
NOTE: Persons wishing to provide their own airfare may take a credit of $250 per person. Persons providing their own air are responsible for their airport transfers if they do not coincide with the group arrival and departure schedule and must indicate this request at the time of registration.
Luggage: US Airways charges for checked luggage. The current fee is $25 for the first bag and $35 for the second bag. Each bag cannot weigh more than 50 pounds. For this reason, we can no longer handle airport check-in for groups. Each member of the group must check in separately and pay the required fee to US Airways at that time. These fees are subject to change. We will organize luggage handling on arrival and departure at the hotel.
Responsibility: OLD WORLD TRAVEL and/or its agents and BRAHM act solely as the agents of the various companies over the lines of which tickets are routed and this tour operated. Company and tour organizers assume no responsibility or liability in connection with the services of any aircraft or other conveyance, which may be used either wholly or in part in the performance or its duty to the passenger. The tour operator hereby reserves the right to cancel or alter the tour, as she deems necessary. No refunds will be made for any part of this tour in which you choose not to participate.