RESCHEDULED TO TBD- Day Trip with BRAHM: Glassblowing Workshop & Pottery Center Tour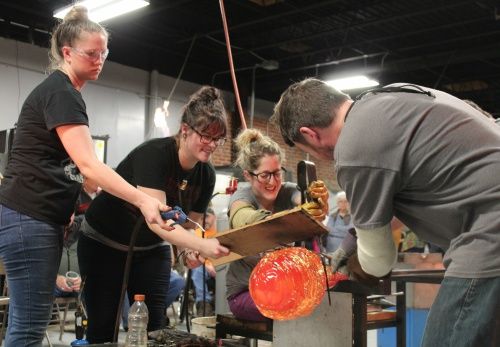 - THIS EVENT HAS BEEN CANCELED -
It will be rescheduled to a later date: Please check back at blowingrockmuseum.org/trips for further updates.
Location: STARworks NC in Star, NC & North Carolina Pottery Center, Seagrove, NC
Date: TBA
Price: $175/person (open to BRAHM members only). Not a BRAHM member yet? Sign up here!
Deadline to register: TBA
Details
BRAHM Members are invited to take a day trip to StarWORKS in Star, NC for a guided tour of the facility and to participate in a glassblowing workshop in the center's hot shop. Each participant will make a small glass bowl that will be theirs to keep.
Participants will also enjoy light Dutch lunch togehter in the StarWORKS cafe 
After our time at StarWORKS, participants will vanpool to Seagrove for a self-guided tour of the North Carolina Pottery Center.
Questions or to register by phone, call BRAHM at 828-295-9099
Schedule
8:00 AM: Participants vanpooling from Blowing Rock meet at BRAHM parking deck to ride down in passenger van. (Participants coming from other areas are welcome to meet us at StarWORKS.
11:00 AM: Arrive at Starworks, tour the facility
12:00 PM: Light lunch in STARworks Café
12:30 PM: Glassblowing workshop 
2:30 PM: Leave STARworks 
3:00 PM: Arrive at North Carolina Pottery Center
4:00 PM: Leave for Blowing Rock
7:00 PM: Arrive in Blowing Rock