Wise and Otherwise: Elizabeth Bradford, A Friend Returns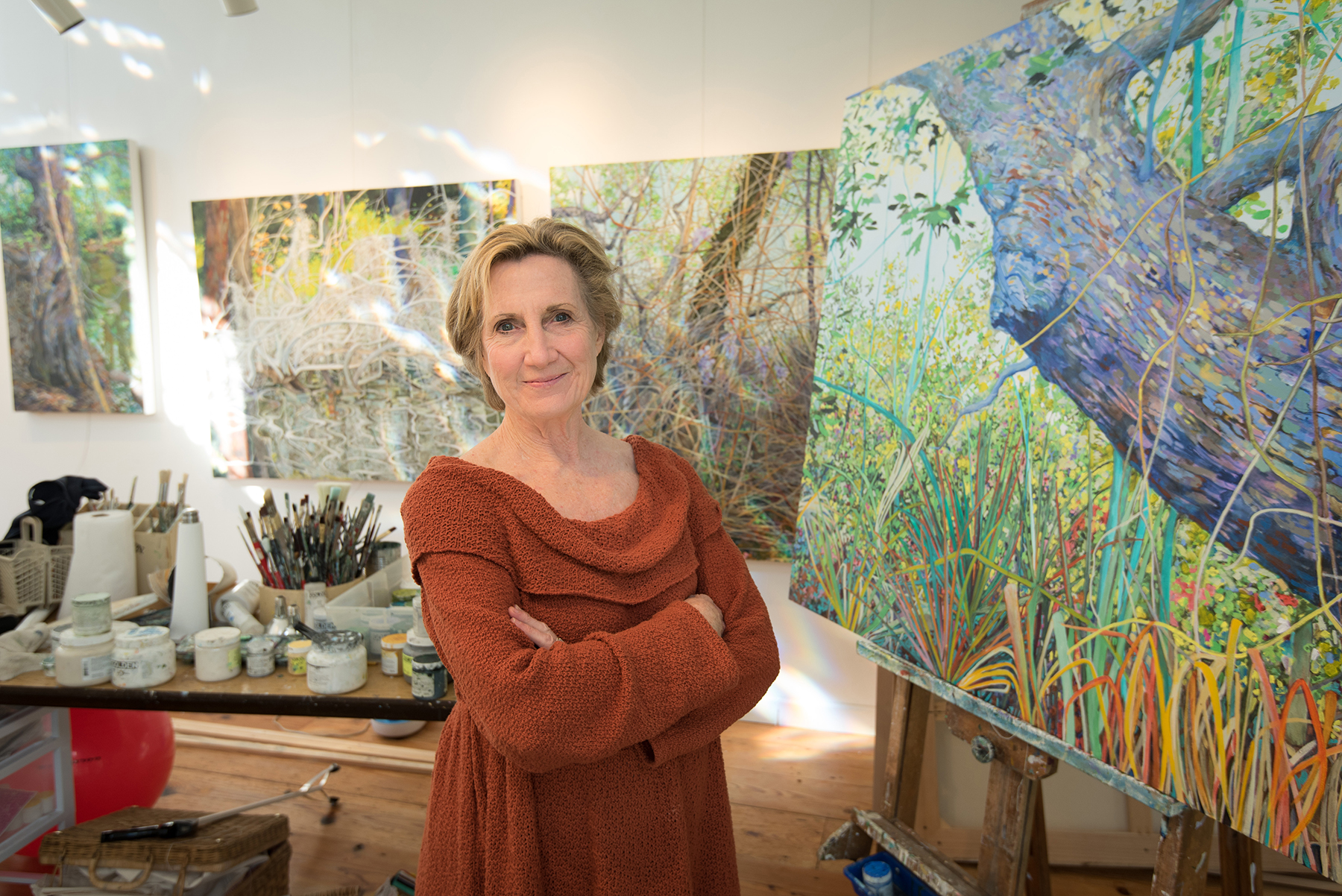 Elizabeth Bradford is a friend to BRAHM. In the fall of 2016 we had the wonderful opportunity to showcase her exhibition: Elizabeth Bradford: Time + Terrain. This exhibition was a favorite among our patrons and in early 2019 is on tour at the museum in Myrtle Beach. We have invited Elizabeth Bradford back for an update on her newest works and the current direction of her work.
Elizabeth Bradford gleans images from the rural landscape surrounding her family's ancestral farm in northern Mecklenburg County, where she lives. The expanded scope of her artwork also includes impressions of countries she explores, as well as the wilderness where she kayaks, hikes, and camps. "Slowly, over time, my attention turned to wild places," explains Bradford. "I found myself breathing deep sighs of relief when I stepped out of civilization and into the forest … I have come to believe that I am now painting the permanent—that wildness will never be fully controlled."
Carla Hanzal, curator for Time+ Terrain adds that Bradford's paintings both eulogize what is being lost, and offer glimpses of the untamable existing beyond control." Bradford constructs complex compositions, utilizing precise layers of color and dynamic mark-making to evoke form, light, and shadow. Bradford compares her paintings to the tessera in a mosaic or the pixels of a photograph, fracturing the image into its component parts, which then coalesce into a whole. Her paintings invite contemplation of the familiar and the lovely within a natural setting, but the uncanny of the unknown and the mysterious also beckon.
About the Artist
Elizabeth Bradford studied art at Randolph Macon Woman's College, the University of North Carolina, and at Davidson College, and recently completed a residency at the Virginia Center for the Creative Arts and at Skopart on the Greek island of Skopelos. She is represented in numerous corporate and private collections, and was included in the United States' State Department's Art in Embassies Program, which places representative work by American artists in embassies around the world.
In 2006, Bradford was chosen as the featured artist for North Carolina's first statewide Women's Conference. She has had many solo exhibitions, including shows at the University of North Carolina at Charlotte, Davidson College, and Hood College. Bradford's work explores intricate formal patterns found in nature and reveals a personal experience of color. Though representational, there is a connection with the traditions of abstract art, as well as the Pattern and Decoration movement and Pop Art. Bradford's paintings investigate landscape and the power of place, with special affection for the Southeast.
Our Member Enrichment Program Series is a series of lectures in the Summer of 2019 for our Patron Level Members and above. To learn more about becoming a member of BRAHM, please visit our Membership Page.