2017 Create Community Gift Drive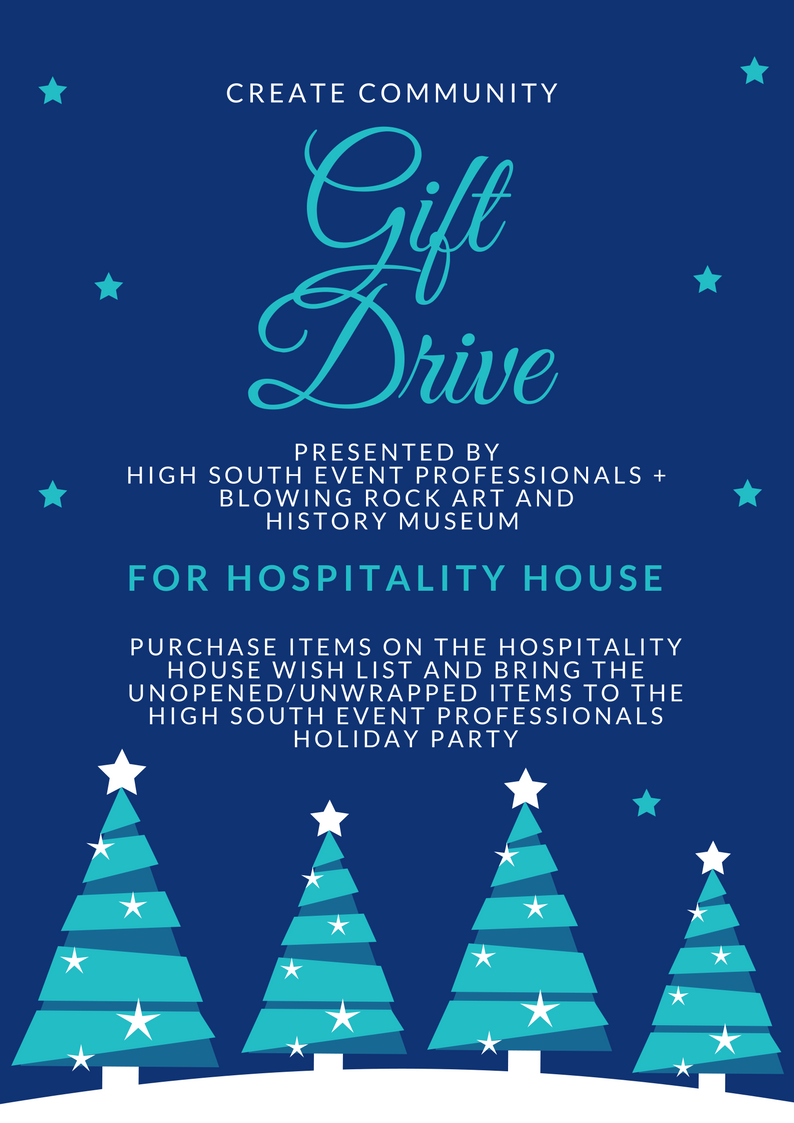 CREATE COMMUNITY GIFT DRIVE
High South Event Professionals and the Blowing Rock Art & History Museum are partnering with the Hospitality House this year to provide Christmas gifts for women and men taking shelter there this holiday season.
Hospitality House is a place where those who are experiencing homelessness can go to begin the process of rebuilding their lives. Hospitality House works to provide everyone, even if they are checking in on Christmas Eve, a Christmas bag and a wrapped gift along with shelter, food, community, etc..  
"At Hospitality House we offer much more than bed and bread. We are a place where self-worth is reclaimed, passion is rediscovered, and souls are redeemed."
The High South Event Professionals organization is a collection of handcrafted, hand picked wedding vendors in the Blue Ridge Mountains dedicated to their clients, their craft, and their community.
The Blowing Rock Art & History Museum seeks to provide cultural enrichment to the High Country communities by promoting the arts and Southern Appalachian heritage and history through educational programs, exhibitions, activities and permanent collections.
Help bring comfort to those taking shelter at the Hospitality House this season by participating in our Create Community Gift Drive. Provide everyday essentials by purchasing items on the Hospitality House Wish List and bring the unopened/unwrapped items to the High South Event Professionals holiday party. We will pack them in a holiday bag so they are ready to give. Gifts cards in small increments from Big Lots are also welcome.
Those interested in donating a gift from the wish list can bring drop off items at the Blowing Rock Art & History Museum. Hours are Tuesday-Saturday, 10 am-5 pm.
If you are unable to attend the holiday party but still want to donate, you can drop off items at the Blowing Rock Art & History Museum during normal business hours. The holiday gift drive will run until December 20th, 2017. Please call/text Jessica Maceda (828) 773-8764 or email info@highsouthevents.com  if you have any questions.