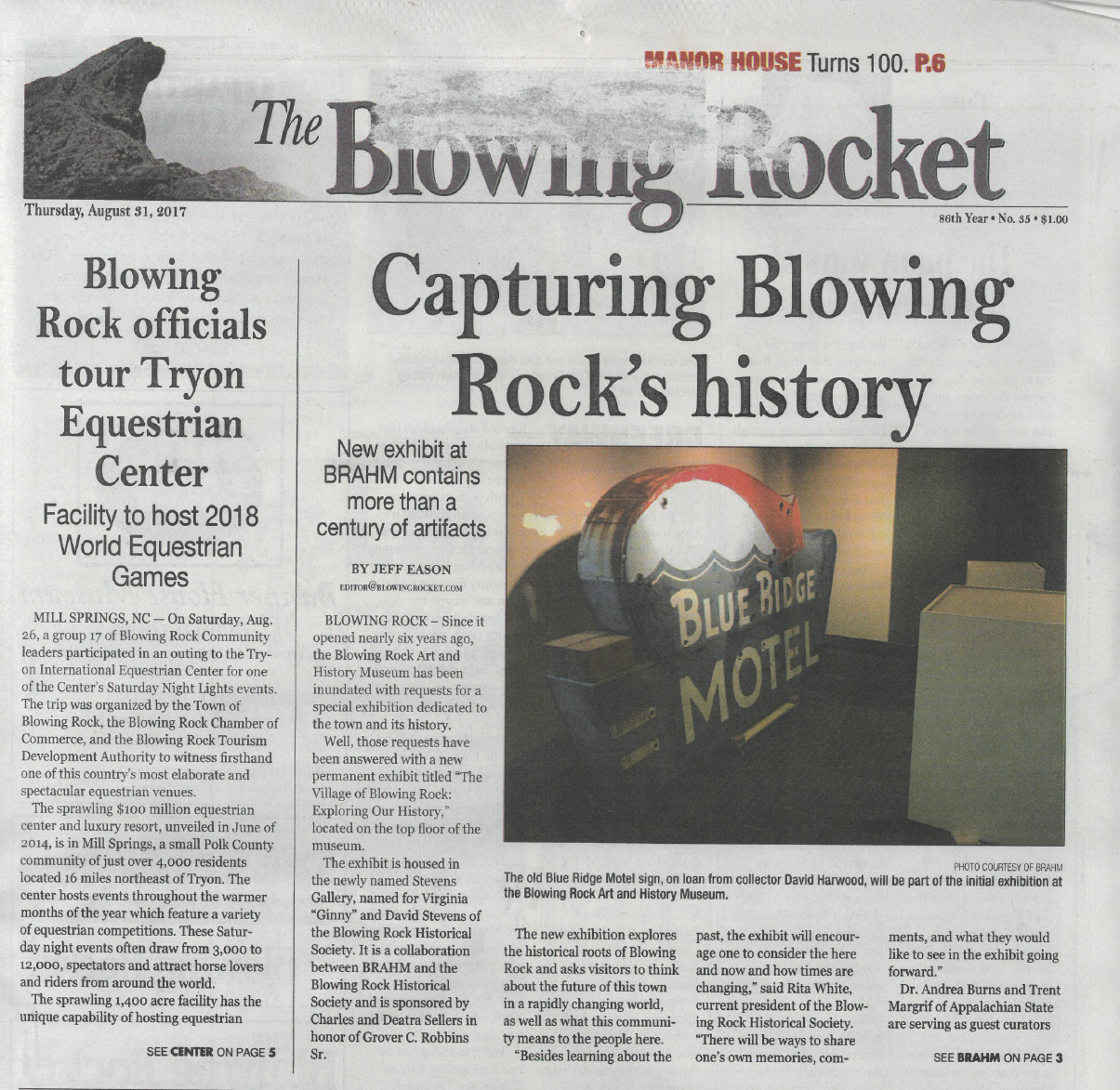 A new exhibit at BRAHM contains more than a century of artifacts!
BLOWING ROCK - Since it opened nearly six years ago, the Blowing Rock Art and
History Museum has been inundated with requests for a special exhibition dedicated to the town and its history. Well, those requests have been answered with a new permanent exhibit titled "The Village of Blowing Rock: Exploring Our History," located on the top floor of the museum. The exhibit is housed in the newly named Stevens Gallery, named for Virginia "Ginny" and David Stevens of the Blowing Rock Historical Society. It is a collaboration between BRAHM and the Blowing Rock Historical Society and is sponsored by Charles and Deatra Sellers in honor of Grover C. Robbins Sr.
The new exhibition explores the historical roots of Blowing Rock and asks visitors to think about the future of this town in a rapidly changing world, as well as what this communi­ty means to the people here. "Besides learning about the past, the exhibit will encour­age one to consider the here and now and how times are changing," said Rita White, current president of the Blow­ing Rock Historical Society. "There will be ways to share one's own memories, comments, and what they would like to see in the exhibit going forward."
Dr. Andrea Bums and Trent Margrif of Appalachian State are serving as guest curators for the exhibit. "We hope to survey the public about what they'd like to see included, either on a temporary or perma­nent basis, in this exhibit," Burns said. "It is import­ant to note that we have only touched the surface of Blowing Rock's rich history--there are many more stories that are not yet included." The initial exhibit includes hotel and motel signs, photographs, plans for the construction of Blowing Rock Memorial Park, maps of the down­town area and many other historic objects.
To read the full article, click here.