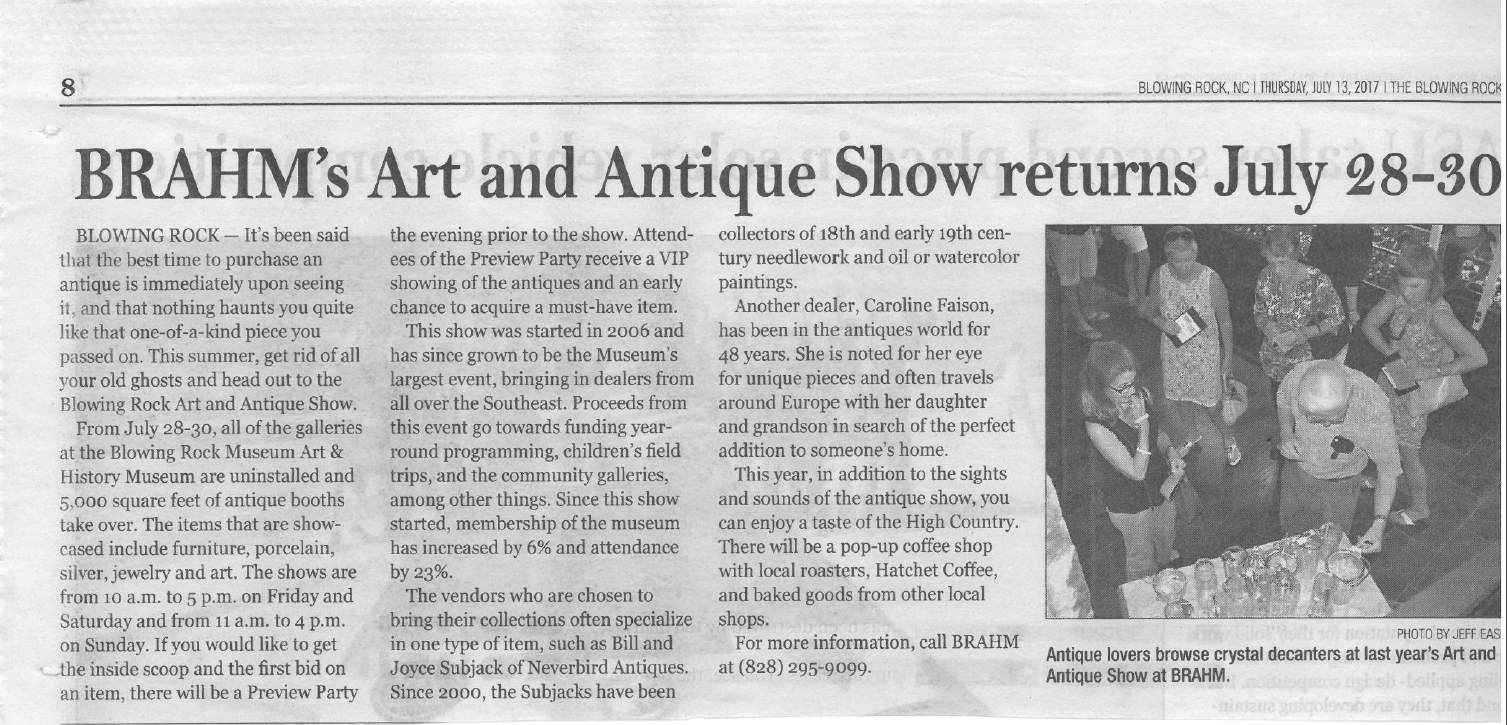 It's been said that the best time to purchase an antique is immediately upon seeing it, and that nothing haunts you quite like that one-of-a-kind piece you passed on. This summer, get rid of all your old ghosts and head out to the Blowing Rock Art and Antique Show.
From July 28-30, all of the galleries at the Blowing Rock Museum Art & History Museum are uninstalled and 5,000 square feet of antique booths take over. The items that are show­cased include furniture, porcelain, silver,jewelry and art. The shows are from 10 a.m. to 5 p.m. on Friday and Saturday and from 11 a.m. to 4 p.m. on Sunday. If you would like to get the inside scoop and the first bid on an item, there will be a Preview Party the evening prior to the show. Attend­ees of the Preview Party receive a VIP showing of the antiques and an early chance to acquire a must-have item.
This show was started in 2006 and has since grown to be the Museum's largest event, bringing in dealers from all over the Southeast. Proceeds from this event go towards funding year­round programming, children's field trips, and the community galleries, among other things. Since this show started, membership of the museum has increased by 6% and attendance by23%.
The vendors who are chosen to bring their collections often specialize in one type of item, such as Bill and Joyce Subjack of Neverbird Antiques. Since 2000, the Subjacks have been collectors of 18th and early 19th cen­tury needlework and oil or watercolor paintings.
Another dealer, Caroline Faison, has been in the antiques world for 48 years. She is noted for her eye for unique pieces and often travels around Europe with her daughter and grandson in search of the perfect addition to someone's home. This year, in addition to the sights and sounds of the antique show, you can enjoy a taste of the High Country. There will be a pop-up coffee shop with local roasters, Hatchet Coffee, and baked goods from other local shop