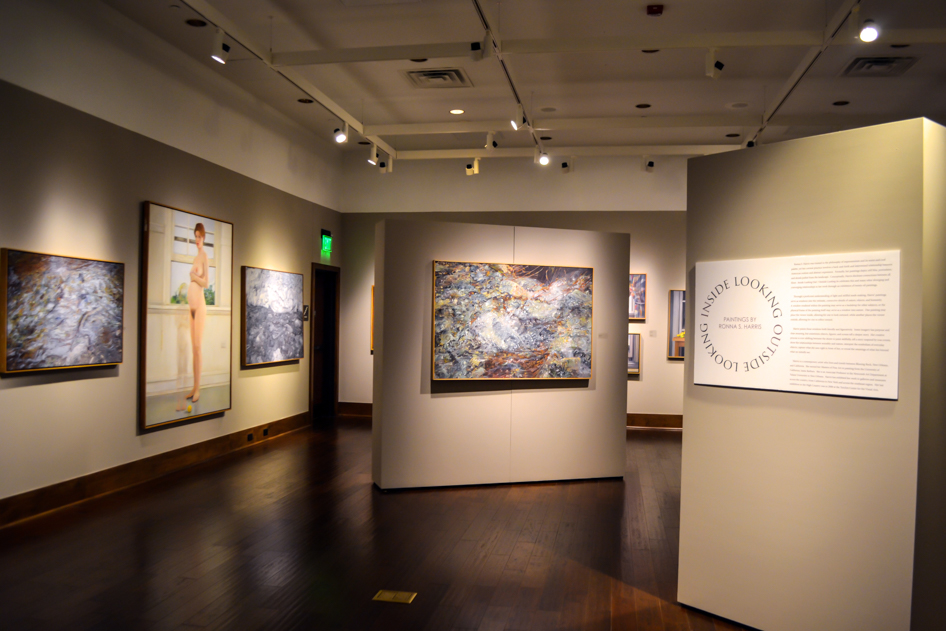 Turning A Rainy Day Into Mountain Wonderful
By Grace Rogers. July 11, 2017. BLOWING ROCK, NC — "Well, there goes our hiking plans," my husband said glumly, staring into the downpour happening outside our window.
Photographic images courtesy of Blowing Rock Art & History Museum
We are in a cabin in Blowing Rock, North Carolina. We rented it with the intention of spending a few nights there and our days elsewhere, outside on the trails. However, a quick glance at the weather for the next few days told me we needed a plan B, pronto.
Luckily, the cabin owners provided a catalog of nearby attractions for us. Flipping through the pages, we took note of the Blowing Rock Art & History Museum, located in downtown Blowing Rock. This wasn't our first time visiting "the village," but it is the first time either of us had heard of the museum.
Realizing the museum opened at 10 a.m., we grabbed our rain jackets and quickly rushed out the door. It was still raining cats and dogs as we drove down Main Street, so when we arrived at the address on Chestnut Drive we were delighted to discover that there is a free parking deck adjacent to the large stone building that houses the museum.
Our first impression was that the beautiful architecture blends naturally into the mountains and really came alive as we walked through the front doors, where we were greeted by a friendly face at the front desk. Since it is a Thursday, we were told that it is "the museum's Donation Day, where admission is free with any donation."
After learning a bit about the current exhibitions, we paused to look around the lobby. Across the way, a stylish group of ladies were arranging and rearranging items in the gift shop. They asked my opinion, and I assured them that their arrangement of the scarves and handmade mugs displayed them wonderfully.
As we walked toward the galleries, we noticed a young woman standing on a ladder, adjusting lights above the paintings. She explained to me the lights were moved temporarily, due to a concert in that space the night before.
I pushed back tears and stared in newfound awe.
A few folks were headed up the elevator to listen to a morning lecture on Daniel Boone, and preschoolers were excitedly dragging their guardians by the hand down a flight of stairs to their art class. Though there was hustle and bustle, it was by no means chaotic. In fact, I was impressed by the organization of it all.
A first glance at the exhibitions told us this is not the type of place you need an art history degree to enjoy; all you need is a sense of curiosity and amazement.
Museum patrons enjoy a tour of the exhibits
Exploring the works of American artist Elliott Daingerfield, we learned he built several of what are regarded as historic homes in Blowing Rock and spent his summers here painting the landscape.
Afterwards, we walked toward the neighboring exhibition, Inside Looking Out/Outside Looking In, a collection of 20 oil paintings by Ronna S. Harris. Some of them are scenes through a window, while others show nature, people, and objects in a still life. All of them are astonishingly lifelike. They seem to open windows into other worlds. Once, I caught myself reaching for a piece of chalk on a blackboard in front of a café, but quickly stop myself before my hand made contact with the canvas, because the chalk, too, is painted.
We found ourselves lingering a bit longer in front of a painting that shows two wine glasses sitting on a windowsill. One is upside down, while the other is lying sideways. Another lady perusing the room noticed us pondering the painting and tells us she is a Docent at the museum, someone who leads complimentary tours of the exhibitions every Thursday and Saturday at 2 p.m. She explained that she was there studying for her tour later that day, and said she had recently attended a talk this particular artist gave recently at the museum. There, she said, she learned that the sideways wine glass represented the artists' friend who passed away, and the upside down glass personified the artist herself, whose life was turned upside down from this loss.
What seemed to be a simple still life became so much more in that moment. I pushed back tears and stared in newfound awe. We thanked the Docent for sharing this story with us, and moved on.
We both laughed, pretending to be off on a great adventure.
The next exhibition was more lighthearted. As we turned the corner, we were greeted with a display of bright, vivid yellow walls. "A history exhibition," exclaimed my husband. He was right: the history of Tweetsie Railroad®.
My husband and I have always driven past the iconic amusement park off Hwy 321, but we had never really thought to stop in. As we read and learned about the history of the railroad itself and all it did for the Appalachian region's economic development, we realized that we've been missing out on an amazing piece of living railroad history. We climbed inside a mini train car to watch two videos on Tweetsie and laughed as we both pretended to be off on a grand adventure.
The next exhibition opened into a big, white space. It was a showcase of glasswork from artists statewide titled, Fire & Form: North Carolina Glass. We spent well over a half an hour marveling and generally dropping our jaw at the variety of glass work on display. These artists used glassblowing, sculpting, casting, hot and cold working, and every other technique under the sun, it seems. Remarkably, we also learned that they all live and work in North Carolina!
There is one piece, we were told by our Docent friend from earlier, that took four years to assemble and complete. It's so detailed and complex, with cast hands so realistic, I'm surprised there aren't veins running under the sweet tea-colored glass. Within the same piece, the artists used clocks, gears, and antique photographs of family and friends. One of the clocks ticked as I walked by, and I briefly thought I was in an Edgar Allen Poe story. Many of the glass artists in this exhibit are kin to each other—husbands, wives, grandfathers, and sons. It seemed to echo the busy scene we witnessed in the front lobby, people of every age melding together.
There are two galleries upstairs, too. Art and history are tucked into every nook and cranny of the museum.
The doors to a conference room were open, so we wandered in to admire the etchings by Louis Orr, depicting many architectural landmarks around North Carolina. My husband (the history enthusiast) points out another exhibition nearby on the history of Horn in the West, a revolutionary drama and historic site in the nearby town of Boone.
I can't believe it took us this long to come for a visit.
Just outside this gallery, we took a moment to snap a photo together in an old telephone booth placed in an inconspicuous corner. We learned that this icon of telecommunications from days long gone by is from Mayview Manor, one of Blowing Rock's historic hotels.
Afterward, doors from the room adjacent to the gallery swung open and people flooded out, talking loudly and excitedly about the talk they had just attended. We made our way into the room that they were leaving, explaining to the stragglers that we missed the talk because we spent so much time exploring the galleries. A vigilant member of the museum staff explained that there are talks at the museum almost every week, and welcomed us to plan for the next one.
Relieved, we made a note to grab a list of events before we left.
Now, pleasantly exhausted, we plopped down on a set of soft chairs beside a large window. As we watched the rain fall outside, my husband and I discussed which painting that we had seen we'd like most to be in. Our consensus: a painting in the museums' collection called Native Home in Charleston, South Carolina, by Mable May Woodward. The colorful, impressionistic scene reminded us of warmer, dryer days, although the museum at that moment provided us all the warmth and comfort we needed and, at the same time stirred our creative and intellectual juices.
After spending some more time with the paintings upstairs, we made our way back down to the lobby. I asked the concierge at the front desk how long this museum had been open. He said the building was completed in 2011. That surprised me because it looks much newer than six years old, and I can't believe it took us this long to come for a visit!
We browsed the gift shop briefly, even thinking of the ladies who earlier had so carefully put everything in just the right spot. I purchased a few cards for friends and decided that we would invite them to join us on our next adventure back to the museum in the fall. That is when the galleries change out and new exhibitions arrive. "We'll be here, rain or shine!" we told the concierge.
"So will we," he said, as he thanked us for stopping in. We grabbed a list of upcoming events before heading out the doors, reflecting on this cultural treasure in the mountains.
It was an excellent day at the museum, and we can't wait to come back.