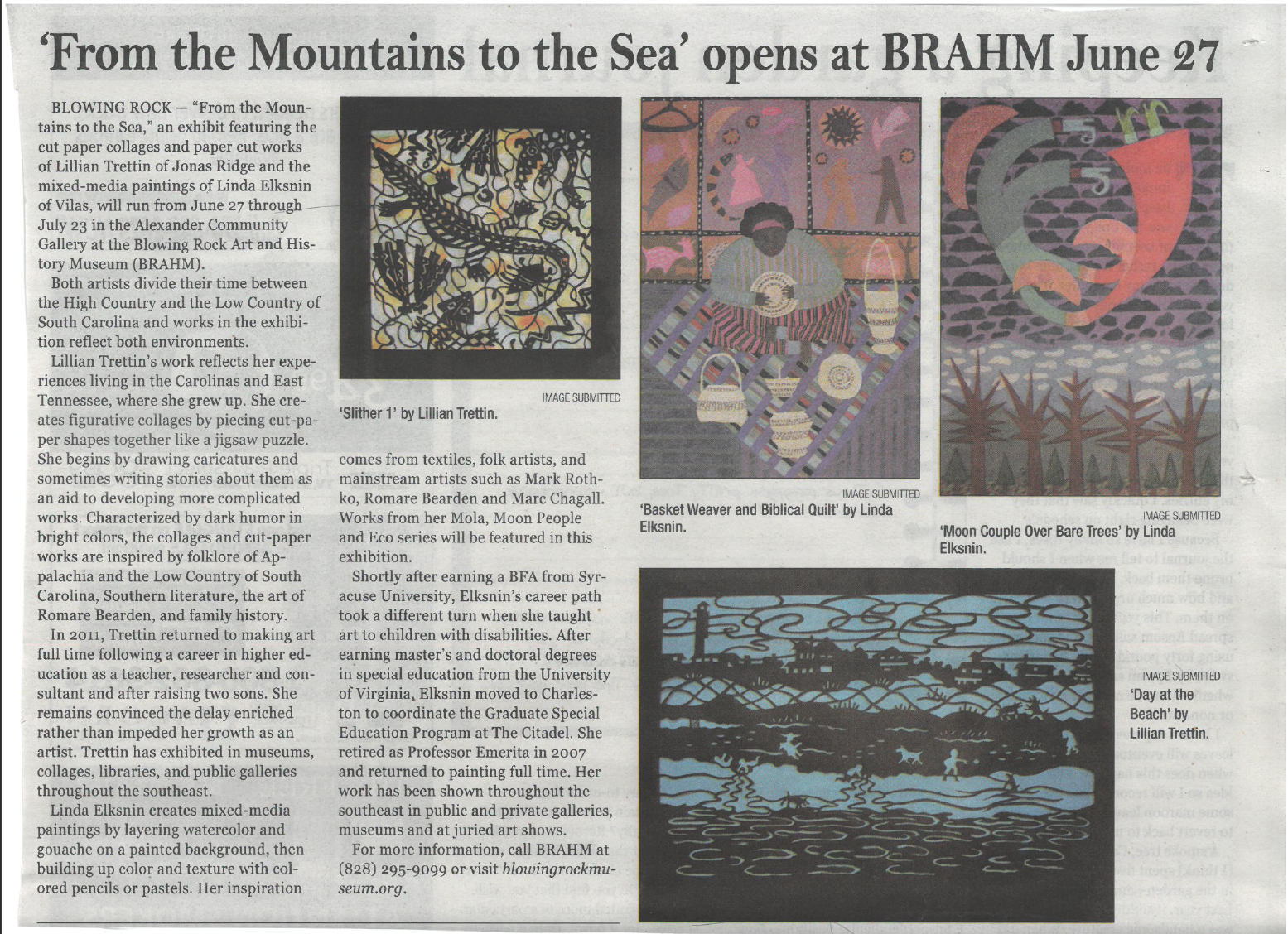 BLOWING ROCK - "From the Moun­tains to the Sea," an exhibit featuring the cut paper collages and paper cut works of Lillian Trettin of Jonas Ridge and the mixed-media paintings of Linda Elksnin of Vilas, will run from June 27 through July 23 in the Alexander Community Gallery at the Blowing Rock Art and His­tory Museum (BRAHM).
Both artists divide their time between the High Country and the Low Country of South Carolina and works in the exhibi­tion reflect both environments.
Lillian Trettin's work reflects her expe­riences living in the Carolinas and East Tennessee, where she grew up. She cre­ates figurative collages by piecing cut-pa­per shapes together like a jigsaw puzzle. She begins by drawing caricatures and sometimes writing stories about them as an aid to developing more complicated works. Characterized by dark humor in bright colors, the collages and cut-paper works are inspired by folklore of Ap­palachia and the Low Country of South Carolina, Southern literature, the art of Romare Bearden, and family history.
In 2011, Trettin returned to making art full time following a career in higher ed­ucation as a teacher, researcher and con­sultant and after raising two sons. She remains convinced the delay enriched rather than impeded her growth as an artist. Trettin has exhibited in museums, collages, libraries, and public galleries throughout the southeast.
Linda Elksnin creates mixed-media paintings by layering watercolor and gouache on a painted background, then building up color and texture with col­ored pencils or pastels. Her inspiration comes from textiles, folk artists, and mainstream artists such as Mark Roth­ko, Romare Bearden and Marc Chagall. Works from her Mola, Moon People and Eco series will be featured in this exhibition.
Shortly after earning a BFA from Syr­acuse University, Elksnin's career path took a different turn when she taught art to children with disabilities. After earning master's and doctoral degrees in special education from the University of Virginia. Elksnin moved to Charles­ton to coordinate the Graduate Special Education Program at The Citadel. She retired as Professor Emerita in 2007 and returned to painting full time. Her work has been shown throughout the southeast in public and private galleries, museums and at juried art shows.
For more information, call BRAHM at (828) 295-9099 or visit blowingrockmu­seum.org.