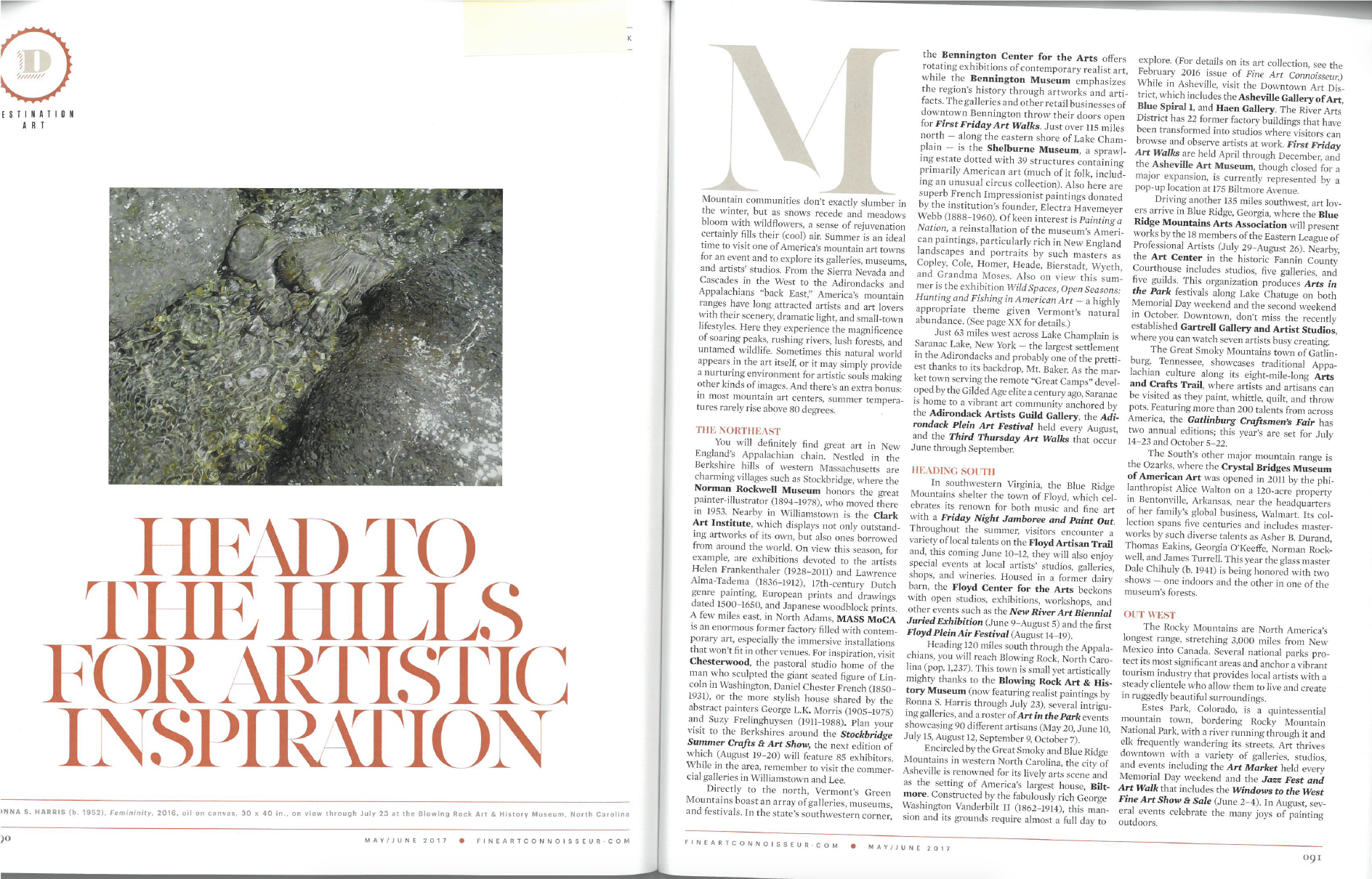 Mountain communities don't exactly slumber in the winter, but as snows recede and meadows bloom with wildflowers, a sense of rejuvenation certainly fills their (cool) air. Summer is an ideal time to visit one of America's mountain art towns for an event and to explore its galleries, museums, and artists' studios. From the Sierra Nevada and The Cascades in the West to the Adirondacks and Appalachians "back East," America's mountain ranges have long attracted artists and art lovers with their scenery, dramatic light, and small-town lifestyles. Here they experience the magnificence of soaring peaks, rushing rivers, lush forests, and untamed wildlife. Sometimes this natural world appears in the art itself, or it may simply provide a nurturing environment for artistic souls making other kinds of images. And there's an extra bonus: in most mountain art centers, summer tempera­tures rarely rise above 80 degrees.
You will definitely find great ru·t in New England's Appalachian chain. Nestled in the Berkshire hills of western Massachusetts are charming villages such as Stockbridge, where the Norman Rockwell Museum honors the great painter-illustrator (1894-1978), who moved there in 1953. Nearby in Williamstown is the Clark Art Institute, which displays not only outstand­ing artworks of its own, but also ones borrowed from around the world. On view this season, for example, are exhibitions devoted to the artists Helen Frankenthaler (1928-2011) and Lawrence Alma-Tadema (1836-1912), 17th-century Dutch genre painting, European prints and drawings dated 1500-1650, and Japanese woodblock prints. A few miles east, in North Adams, MASS MoCA is an enormous former factory filled with contem­porary art, especially the immersive installations that won't fit in other venues. For inspiration, visit Chesterwood, the pastoral studio home of the man who sculpted the giant seated figure of Lin­coln in Washington, Daniel Chester French (1850- 1931), or the more stylish house shared by the abstract painters George L.K. Morris (1905-1975) and Suzy Frelinghuysen (1911-1988). Plan your visit to the Berkshires around the Stockbridge Summer Crafts & Art Show, the next edition of which (August 19-20) will feature 85 exhibitors. While in the area, remember to visit the commer­cial galleries in Williamstown and Lee.
Directly to the north, Vermont's Green Mountains boast an array of galleries, museums, and festivals. In the state's southwestern corner, the Bennington Center for the Arts offers rotating exhibitions of contemporary realist art, while the Bennington Museum emphasizes the region's history through artworks and arti­facts. The galleries and other retail businesses of downtown Bennington throw their doors open for First Friday Art Walks. Just over 115 miles north - along the eastern shore of Lake Cham­plain - is the Shelburne Museum, a sprawl­ing estate dotted with 39 structures containing primarily American art (much of it folk, includ­ing an unusual circus collection). Also here are superb French Impressionist paintings donated by the institution's founder, Electra Havemeyer Webb (1888-1960). Of keen interest is Painting a Nation, a reinstallation of the museum's Ameri­can paintings, particularly rich in New England landscapes and portraits by such masters as Copley, Cole, Homer, Heade, Bierstadt, \Vyeth, and Grandma Moses. Also on view this sum­mer is the exhibition Wild Spaces, Open Seasons: Hunting and Fishing in American Art - a highly appropriate theme given Vermont's natural abundance.
Just 63 miles west across Lake Champlain is Saranac Lake, New York - the largest settlement in the Adirondacks and probably one of the pretti­est thanks to its backdrop, Mt. Baker. As the mar­ket town serving the remote "Great Camps" devel­oped by the Gilded Age elite a century ago, Saranac is home to a vibrant art community anchored by the Adirondack Artists Guild Gallery, the Adi­rondack Plein Art Festival held every August, and the Third Thursday Art Walks that occur June through September.
In southwestern Virginia, the Blue Ridge Mountains shelter the town of Floyd, which cel­ebrates its renown for both music and fine art with a Friday Night Jamboree and Paint Out. Throughout the summer, visitors encounter a variety of local talents on the Floyd Artisan Trail and, this coming June 10-12, they will also enjoy special events at local artists' studios, galleries, shops, and wineries. Housed in a former dairy barn, the Floyd Center for the Arts beckons with open studios, exhibitions, workshops, and other events such as the New River Art Biennial Juried Exhibition (June 9-August 5) and the first Floyd Plein Air Festival (August 14-19).
Heading 120 miles south through the Appala­chians, you will reach Blowing Rock, North Caro­lina (pop. 1,237). This town is small yet artistically mighty thanks to the Blowing Rock Art & His­tory Museum (now featuring realist paintings by Ronna S. Harris through July 23), several intrigu­ing galleries, and a roster of Art in the Park events showcasing 90 different artisans (May 20, June 10, July 15, August 12, September 9, October 7).
Encircled by the Great Smoky and Blue Ridge Mountains in western North Carolina, the city of Asheville is renowned for its lively arts scene and as the setting of America's lru·gest house, Bilt­more. Constructed by the fabulously rich George Washington Vanderbilt II (1862-1914), this man­sion and its grounds require almost a full day to explore. (For details on its art collection, see the February 2016 issue of Fine Art Connoisseur.) While in Asheville, visit the Downtown Art Dis­trict, which includes the Asheville Gallery of Art, Blue Spiral 1, and Haen Gallery. The River Arts District has 22 former factory buildings that have been transformed into studios where visitors can browse and observe artists at work. First Friday Art Walks are held April through December, and the Asheville Art Museum, though closed for a major expansion, is currently represented by a pop-up location at 175 Biltmore Avenue.
Driving another 135 miles southwest, art lov­ers arrive in Blue Ridge, Georgia, where the Blue Ridge Mountains Arts Association will present works by the 18 members of the Eastern League of Professional Artists (July 29-August 26). Nearby, the Art Center in the historic Fannin County Courthouse includes studios, five galleries, and five guilds. This organization produces Arts in the Park festivals along Lake Chatuge on both Memorial Day weekend and the second weekend in October. Downtown, don't miss the recently established Gartrell Gallery and Artist Studios, where you can watch seven artists busy creating.
The Great Smoky Mountains town of Gatlin­burg, Tennessee, showcases traditional Appa­lachian culture along its eight-mile-long Arts and Crafts Trail, where artists and artisans can be visited as they paint, whittle, quilt, and throw pots. Featuring more than 200 talents from across America, the Gatlinburg Craftsmen's Fair has two annual editions; this year's are set for July 14-23 and October 5-22.
The South's other major mountain range is the Ozarks, where the Crystal Bridges Museum of American Art was opened in 2011 by the phi­lanthropist Alice Walton on a 120-acre property in Bentonville, Arkansas, near the headquarters of her family's global business, Walmart. Its col­lection spans five centuries and includes master­works by such diverse talents as Asher B. Durand, Thomas Eakins, Georgia O'Keeffe, Norman Rock­well, and James Turrell. This year the glass master Dale Chihuly (b. 1941) is being honored with two shows - one indoors and the other in one of the museum's forests.
The Rocky Mountains arc North America's longest range, stretching 3,000 miles from New Mexico into Canada. Several national parks pro­tect its most significant areas and anchor a vibrant tourism industry that provides local artists with a steady clientele who allow them to live and create in ruggedly beautiful surroundings.
Estes Pru·k, Colorado, is a quintessential mountain town, bordering Rocky Mountain National Pru·k, with a river running through it and elk frequently wru1dering its streets. Art thrives downtown with a variety of galleries, studios, and events including the Art Market held every Memorial Day weekend and the Jazz Fest and Art Walk that includes the Windows to the West Fine Art Show & Sale (June 2-4). In August, sev­eral events celebrate the many joys of painting outdoors.
FINEARTCONNOISSEUR ·COM