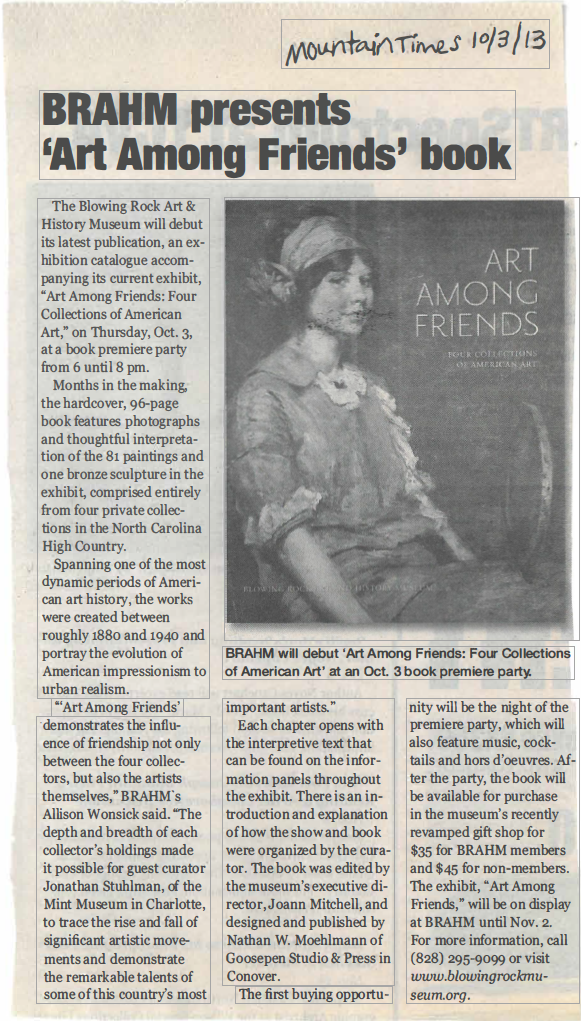 The Blowing Rock Art & History Museum will debut its latest publication, an ex­hibition catalogue accom­panying its current exhibit, "Art Among Friends: Four Collections of American Art," on Thursday, Oct. 3, at a book premiere party from 6 until 8 pm. Months in the making, the hardcover, 96-page book features photographs and thoughtful interpreta­tion of the 81 paintings and one bronze sculpture in the exhibit, comprised entirely from four private collec­tions in the North Carolina High Country. Spanning one of the most dynamic periods of Ameri­can art history, the works were created between roughly 1880 and 1940 and portray the evolution of American impressionism to urban realism. "Art Among Friends" demonstrates the influ­ence of friendship not only between the four collec­tors, but also the artists themselves," BRAHM"s Allison Wonsick said. "The depth and breadth of each collector's holdings made it possible for guest curator Jonathan Stuhlman, of the Mint Museum in Charlotte, to trace the rise and fall of significant artistic move­ments and demonstrate
the remarkable talents of some of this country's most important artists." Each chapter opens with the interpretive text that can be found on the infor­mation panels throughout the exhibit. There is an in­troduction and explanation of how the show and book were organized by the cura­tor. The book was edited by the museum's executive di­rector, Joann Mitchell, and designed and published by Nathan W. Moehlmann of Goosepen Studio & Press in Conover.
The first buying opportunity will be the night of the premiere party, which will also feature music, cock­tails and hors d'oeuvres. Af­ter the party, the book will be available for purchase in the museum's recently revamped gift shop for $35 for BRAHM members and $45 for non-members. The exhibit, "Art Among Friends," will be on display at BRAHM until Nov. 2. For more information, call (828)295-9099 or visit www.blowingrockmu­seum.org.