Scholars & Scones: Guitar Styles of Western NC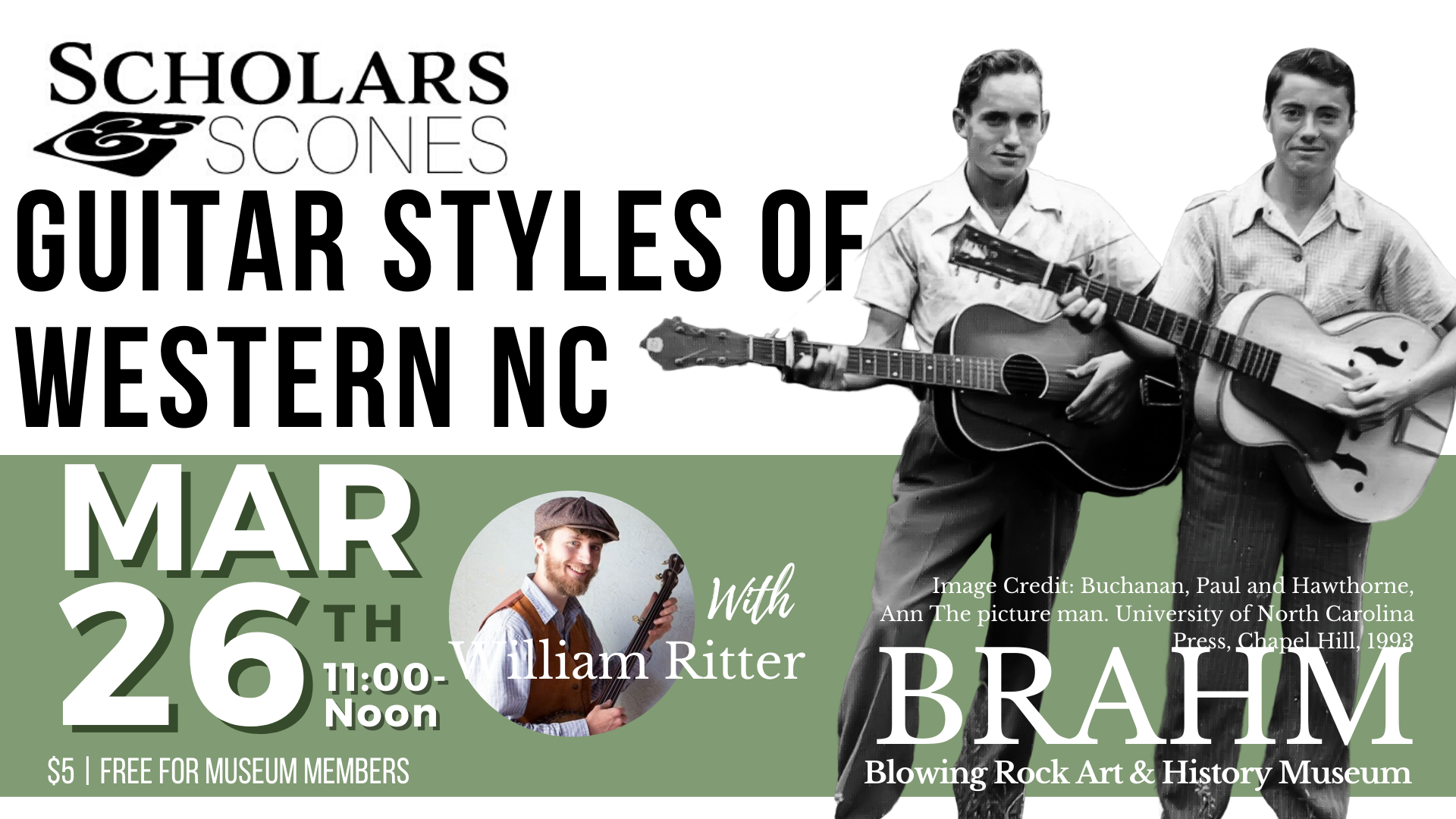 Will be available for online viewing on Thursday, March 26th. S
Through audio recordings, photographs, video, and live demonstration, William Ritter will highlight and discuss the styles of three Mitchell county guitar players against the backdrop of pre-WWII guitar playing in Western North Carolina.  William's presentation will also feature vintage instruments, a guitar made by one of the players (Ray Dellinger), and one of William's instruments currently on display in Sound Machines: Stringed Instruments of the Capozzoli Guitar Company.
Image Credit: Buchanan, Paul and Hawthorne, Ann The picture man. University of North Carolina Press, Chapel Hill, 1993
About the speakers:
William Ritter, is a native of Bakersville, NC, and an alum of Western Carolina University.  He graduated with a degree in Technical Theatre, but spent most of his time in school studying the musical folk traditions of Western North Carolina. Recently, William received his MA in Appalachian Culture and Music from Appalachian State University.  William plays banjo, fiddle, guitar, and other "string-ed things." He is particularly interested in old apple trees and mountain humor--ever eager to swap lies, half-truths, jokes, and seeds. William's parents always kept a big garden, and (whether he liked it or not) he had the opportunity to learn the finer points of gardening from his father Richard.  Over the past few years, William has collected a freezer-full of old-timey family seeds that have been passed down in Appalachia and elsewhere for generations.
--
Scholars & Scones is a monthly educational program which invites patrons to spend a morning sipping coffee, eating locally-baked goodies, and learning about the latest research, writing, and creativity taking place in our region. There are complimentary breakfast goods from Backstreet Bakery and fresh cups of Hatchet Coffee Co. Dangerfield Blend will be served.
Free for museum members, $5 for non-members.
Space is limited. Please arrive early.
This event sponsored by North Carolina Arts Council and the Watauga Arts Council