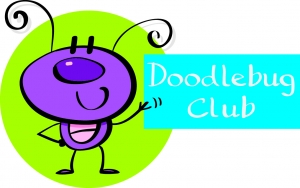 Cancelled until further notice. Please follow us on Social Media and YouTube for weekly art lessons and creative prompts. Sign up for the Doodlebug newsletter to receive inspiration straight to your inbox: http://eepurl.com/bRUPaP>
Preschool age children and a parent/guardian are invited to Doodlebug Club, a fun educational art program focused on basic art skills such as holding your paintbrush, the primary colors, or holding a pair of scissors while introducing them to different art mediums, from watercolors to clay. After clean up, it is story time! It's a great way to introduce your child to art and meet other children and parents.
Every Thursday from 10:30-11:30 a.m.
Free for Museum members, $5 for non-members.
Space is limited. Call to reserve your spot today.
Photo credits: Rich Davis (c) 2009 www.pickanddraw.com