TAC Talk: Moonshine Tales & Tasting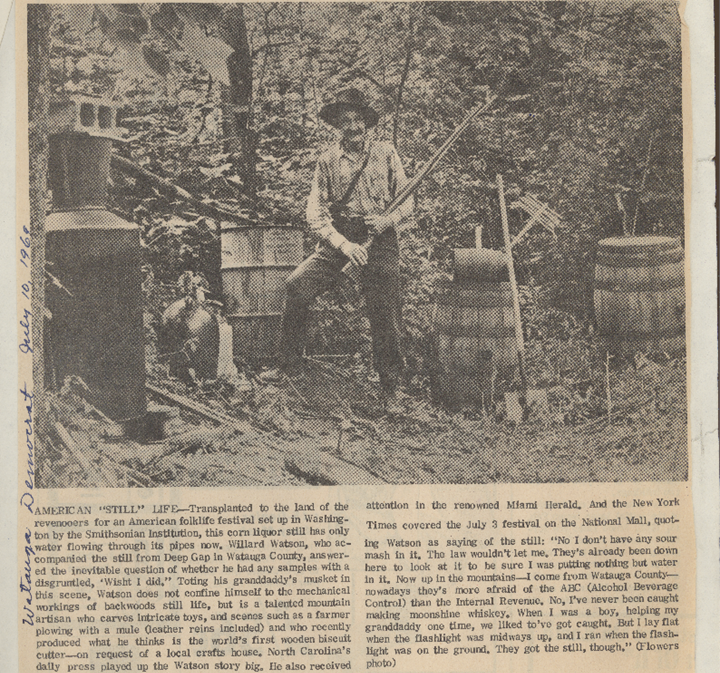 Moonshine is as Appalachian as cornbread and soup beans. It was an economic driver in the area for generations, but since making your own liquor wasn't exactly "legal" the moonshiners were constantly on the run and trying to be one step ahead of the law. The illicit nature of the drink did not dismay fans of the white lightning and now in the 21st-century legal "craft" moonshine is hitting the market.
This program will be a mix of lecture and legal moonshine sampling for those over 21. We will ask the questions: What is the appeal of the clear spirit? And if it is legal and mass-produced is it still moonshine?
About the Speaker
Originally from Fayetteville, North Carolina, Willard moved to Boone in 2008, but his roots run deep in Watauga County. He has a Masters in Appalachian Studies with a concentration on Sustainability. His great-grandfather and namesake, Willard Watson I, was a well-known moonshiner, toy carver, and dancer.
His academic and volunteer passions intersect on the topic of cultural preservation and community development through the creative arts. He also serves as the Food Vendor and Seminar Coordinator for the High Country Beer Fest.
Thursday Art and Culture (TAC) Talks bring collegiate level lectures to your museum. Featuring scholars from around the country, the lectures are selected to provide supplemental information on our current exhibits, or highlight the history and heritage of the mountains.
Beginning at 6 pm these events have an hour long lecture with audience question and answer session at the end. Unless otherwise posted, all TAC talks are free for members and $5 for non-members.