Summer Concert Series: Andrew "Finn the Fiddler" Magill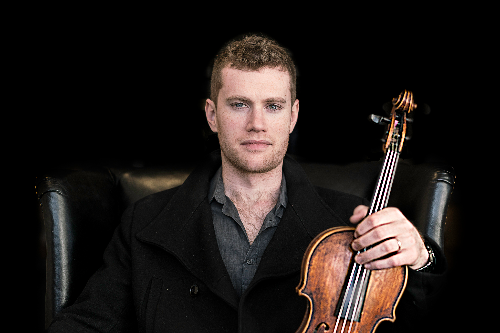 Andrew "Finn the Fiddler" Magill will take the audience on a musical journey from the Emerald Isle to the Blue Ridge Mountains. This performance is sure to be as entertaining as it will be educational, we will get to hear how some of our favorite tunes have developed over time and through different playing styles.
Our concert series brings touring artists for intimate performances in the museum. Programs range from classical to old-time, traditional Appalachian to jazz - with something for all ages. Our concert series runs monthly from June to September, as well as special events.
Concerts are on Sundays from 4 p.m. until approximately 6 p.m. They take place in our intimate Atrium, which seats 60 guests. Seating is first come, first served and the museum opens at 1 p.m. on Sundays during the summer. Each concert will have a brief intermission.
Ticket Info
Tickets for the 2018 season are now on sale and can be purchased online or in person at BRAHM's front desk during regular museum hours.
Advance Purchase: $13, members, students, seniors, military, EBT cardholders / $18 all others
Day of Show: $15, members, students, seniors, military, EBT cardholders / $20 all others
*Day of show tickets only available at the BRAHM front desk. Call us at (828) 295-9099.**
About the Performer
Raised in an Irish musical household, Andrew "Finn the Fiddler" Magill grew up studying with many of the world's best traditional American and Irish fiddlers at The Swannanoa Gathering music workshops in Asheville, North Carolina. At age 18, his debut album Drive & Lift (John Doyle, John Skelton, Will MacMorran) was featured on NPR and his 2016 two-disc project Roots and Branches debuted at #46 on the Folk DJ charts. Says grammy-winner Americana artist Tim O'Brien:
"He has learned from and now plays with the best in the genre. On Branches you can hear a new musical voice emerging. I'm gonna keep listening for Finn Magill."
Finn has built his career on Irish music, having worked with many musicians including John Doyle, Open the Door for Three, and The Paul McKenna Band. Between these collaborations and others he has performed at Milwaukee Irish Fest, Celtic Connections, Olympia Hall in Paris, France, and Disneyworld. He currently has a duo with Irish multi-instrumentalist Dave Curley which performs the festival circuit and concerts all over the U.S.
In 2014 Finn moved to Rio de Janeiro to study Brazilian choro music. He soon founded choro quartet O Finno which the city of Rio de Janeiro featured in its Viva o Talento series. In 2016, Finn founded Brazilian Strings Trio, a trio with fellow American violinist Ted Falcon and Brazilian guitarist Nando Duarte and in 2017 founded Canta, Violino! a Brazilian jazz fusion project, the album of which was released on Ropeadope Records in 2018. Writes Brazilian percussion legend Airto Moreira of Chick Corea and Miles Davis:
"Its nice to see fresh, young musicians carrying on the traditions of Brazilian music. Finn Magill displays a love and authenticity that can fool you into thinking he is from Brazil. His style is playful and light, yet soulful and passionate. Congratulations!"
In Canta, Violino! Magill merges his folk background and more than fifteen years of jazz study with a deep passion for Brazilian music and contemporary instrumental composition. Complementing a busy solo touring schedule, Magill is an on-call fiddle player/violinist with several singers from the acoustic americana to swing idioms.