Scholars & Scones: Finding Folk Art in North Carolina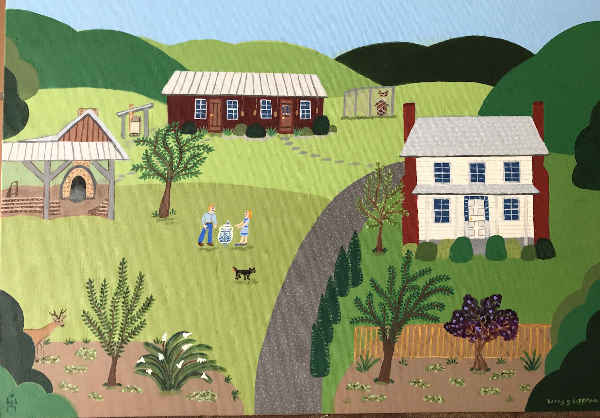 In this talk entitled Finding Folk Art in North Carolina, collector Barry Huffman will discuss selected artists in the exhibit including Raymond Coins, Minnie Reinhardt and her daughter Arie Taylor, Burlon Craig, Hubert Walters and James Harold Jennings. Barry will briefly review the history of interest in contemporary folk art in the state over the last 30 years.
About the Speaker
Born October 11, 1943, in Augusta, Georgia, Barry Huffman grew up in Sanford, NC, Huffman's father's home town. Huffman graduated in 1965 with a BS degree in physical therapy from the University of North Carolina at Chapel Hill. In 1966 Allen W. Huffman, MD, of Hickory, NC, and I were married.
In 1972 Barry started painting to commemorate their first house with all the flowers blooming at one time. Since then Huffman has completed over 325 paintings, mostly autobiographical, expressing the thoughts and daily life of a housewife. Some are religious, historical, fanciful, and political; all are personal. Frequently paint a series on one subject over a period of several years. Those subjects include housewife, hymns, dragons, sanctuaries, county history, churches (a series of 65), folk artists, mountain landscapes and cultural commentary. Huffman says storytelling has been important in determining her subjects.
For the last three decades Huffman has written articles and books on folk art, traditional pottery and material culture. This evening we will learn about artists from the Huffman's private collection and pieces from the Hickory Museum of Art's folk art collection.
Scholars & Scones is a monthly educational program which invites patrons to spend a morning sipping coffee, eating locally-baked goodies, and learning about the latest research, writing, and creativity taking place in our region. There are complimentary breakfast goods from Backstreet Bakery and fresh cups of Hatchet Coffee Co. Dangerfield Blend will be served.
Image Credit: Barry Huffman. Matt Jones Pottery, 2016. Oil on board. 28 x 24 inches. Courtesy of the artist.