Movies at the Museum: Sunlight Makes It Sweeter: A Story of Sorghum by Fred Sauceman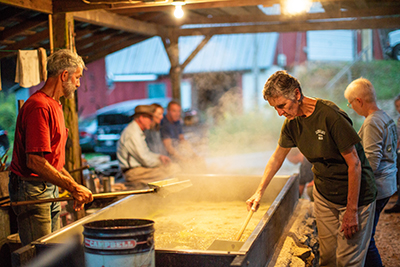 The documentary focuses primarily on the Guenther family's sorghum mill located in Overton County in the predominantly-Mennonite community known as Muddy Pond. After moving to Tennessee in the mid-1960s, the Guenther family began growing and harvesting sorghum cane. Since 1981, the male members of the Guenther family have partnered to operate the Muddy Pond Sorghum Mill in Monterey, which is located between Knoxville and Nashville.
Director Fred Sauceman said, "I've kind of followed the family ever since 2004 and kept track of where their product is being used across the country, and I've also admired sorghum makers in general because this is a labor-intensive product. It takes a lot of work to make sorghum syrup. Every time I eat a tablespoon of sorghum, I think of all the work that went into that jar."
About the Speaker
Fred W. Sauceman celebrates the foodways and culture of his native Appalachia through books, magazine articles, newspaper columns, radio, television, and documentary films. His home base is the campus of East Tennessee State University in Johnson City where he is a Senior Writer and Associate Professor of Appalachian Studies and News Director, WETS-FM.
We also encourage patrons to turn their Thursday night into dinner and a movie in Blowing Rock! All you need to do is pick up your ticket anytime during museum hours on the day of the film, and present it at Bistro Roca for a 10% discount on your meal (offer only valid the day of the film). Make dinner reservations early in the day, tour BRAHM, stay for a film and discussion and then head over to Bistro Roca for a delicious local dinner!
Movies at the Museum is sponsored by Bistro Roca. Also, thanks to the following individuals: Bo Hughes and Carol Frye.
This event is free for members, $5 for non-members.
Image credit: Ashley Warren. "Cane Boil at Cecil and Julie's", 2018. Digital photograph. Courtesy of the artist.