Movies at the Museum: Earthcaster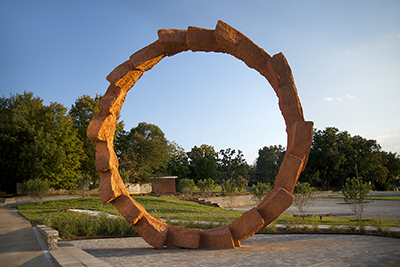 Image Credit: Thomas Sayre, "Across the Grain", Lenoir, NC.
EARTHCASTER is a film about a man who loves dirt.
EARTHCASTER follows internationally-acclaimed sculptor Thomas Sayre, for three years as he creates public art in places like: Portland, OR, Baltimore, MD, and closer to home in Lenoir, NC. Sayre's unique process blends art and science, the natural world with the manmade, in a dance that is exhausting and sometimes dangerous. Sayre attributes this pursuit to childhood, where he was raised on the grounds of the Washington National Cathedral during construction.
"Throughout the course of human history, across every culture and continent, art has been made in service of religion – whether to glorify deities, to celebrate faith and religious passion, or to express aspiration or humility. Now, in our highly secular modern world, the best art often moves us toward the spiritual more effectively than organized religion. So it is with the work of Thomas Sayre" – Steven Levitas
Learn more about Thomas Sayre at https://www.thomassayre.com/.
About the Speakers
After the film, a discussion will be lead by EARTHCASTER's directors, Donna Campbell and Georgann Eubanks of Minnow Media. Donna and Georgeann have been collaborators for over 15 years. Their documentary projects have been seen on public television in North Carolina and around the country. Between them, they have won three regional Emmy Awards for this work. They have also produced Literary Trails of North Carolina, a series of guidebooks published by the University of North Carolina Press that showcase the literary history of the state.
We also encourage patrons to turn their Thursday night into dinner and a movie in Blowing Rock! All you need to do is pick up your ticket anytime during museum hours on the day of the film, and present it at Bistro Roca for a 10% discount on your meal (offer only valid the day of the film). Make dinner reservations early in the day, tour BRAHM, stay for a film and discussion and then head over to Bistro Roca for a delicious local dinner!
Movies at the Museum is sponsored by Bistro Roca. Also, thanks to the following individuals: Bo Hughes and Carol Frye.
This event is free for members, $5 for non-members