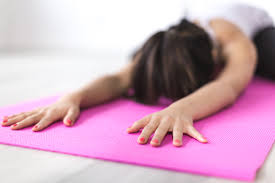 Gentle Yoga at BRAHM
Fridays at 12:00 p.m. - 12:50 p.m.
Join us for Friday morning gentle yoga with instructor, Virginia Falck. Ease into the weekend with some gentle stretches to make your Friday truly great. Class begins promptly at 12 pm. Stop in for a relaxing lunch hour.
Please RSVP by calling Willard Watson at (828) 295-9099 ext. 3005 or emailing him at programs@blowingrockmuseum.org.
This class is donation based. A limited supply of mats, bolsters, blocks and straps will be available, but participants are encouraged to bring their own.
Please check the calendar and Facebook for updates on this class.
About the Instructor
"I've been practicing yoga for over ten years. I first was introduced to yoga while a river guide in southern Western North Carolina. A friend and fellow paddler was an instructor and she introduced me to the practice to assist with a sore back and to help with relaxation. Since that time yoga has been a part of my physical fitness routine as well as a large component in my spiritual growth. I've been fortunate to practice in studios around the southeast; from Nashville, Huntsville, Asheville, Spartanburg, New Bern, Atlanta, and of course, here in Boone. In 2015, I completed an 80 hour Yoga Immersion course at Neighborhood Yoga that focused on the history and psychology of yoga, which introduced me to the theories surrounding the body's charka system along with other Vedic traditions and literature, which I include touches of in each class. As an instructor, I approach each class with an open heart and mind and direct our movements and breathing work based on the energies of the seasons and the universal vibrations we experience through our collective unconsciousness. The types of styles I teach include Hatha and Vinyasa. I look forward to the opportunity to share my practice with you."