TAC Talk: Roundtable Discussion with North Carolina Clay Artists
BRAHM is excited to host a roundtable with four North Carolina clay artists, Leah Leitson, Bob Meier, and Eric Serritella and Kathy Triplett. Their styles range from traditional and functional to modern and abstract. Their combined work evokes the possibility of the range of expression one medium can hold, drawing inspiration from classic forms, nature and the edges of imagination. The panel members will share insight into their creative process and influences through a series of questions prepared by the exhibit curators. There will be time for audience questions as well.
This roundtable discussion is held in conjunction with BRAHM's exhibit Handcrafted: North Carolina Clay, which features clay artists from North Carolina and runs from April 28 – July 22.
Tickets are free for members and $5 for non-members.
About the Speakers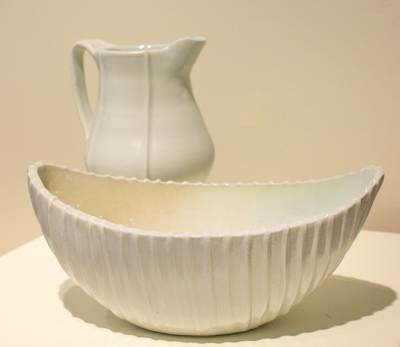 Image Credit: Leah Leitson, Pitcher. Porcelain, cone 10. Courtesy of the Artist. (back); Leah Leitson, Oval Bowl. Porcelain, salt fired cone 10. Courtesy of the Artist.
Leah Leitson, an internationally recognized studio potter and professor at Warren Wilson College in Asheville, North Carolina, received an MFA in ceramics from Louisiana State University, Baton Rouge, LA and a BFA from New York State College of Ceramics, Alfred, New York. Additionally, Leah completed ceramic residencies at the Archie Bray Foundation in Helena, MT and at the Banff Center for the Arts in Alberta, CN. Leah is an active member in many professional organizations including NCECA, Piedmont Craftsmen, Inc., and Southern Highlands Craft Guild. She leads ceramic workshops throughout the US for Penland School of Crafts, Taos Clay, Shakerag, Odyssey Center for the Ceramic Arts, John C Campbell Folk Schooland Arrowmont School of Arts & Crafts, in addition to teaching ceramics in Italy and Israel. Leitson's work has been exhibited nationally and abroad, and is featured in several museum and private collections. Leah takes inspiration from the natural world, her porcelain forms and surface treatments are informed by the beauty of her surroundings.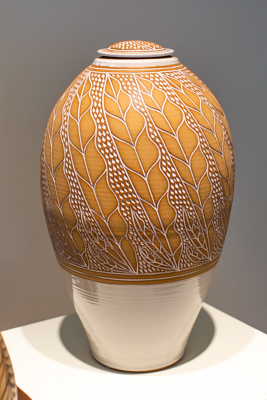 Image Credit: Bob Meier, Large Carved White Jar, 2017. Clay. Courtesy of the Artist.
Bob Meier, owner and operator of Doe Ridge Pottery in Boone, NC began his interest in clay while a student at Appalachian State University. He also attended several local workshops, including one in business practices for craftspeople with Herb Cohen and Jose´ Fumero. Meier was one of the original founding members of Hands Crafts Gallery in Boone, helping establish this as the regions first cooperative gallery in 1975. He remained a member for 25 years. After working in a home studio from 1978 to 1988 Bob established his own studio/gallery on King Street in Boone in 1988. Since then he has maintained a gallery on King Street to this day. Bob's other memberships include Blue Ridge Hearthside Crafts in 1978, and a member of the Southern Highlands Craft Guild in 1983. He is also a member of the North Carolina Pottery Center, Blowing Rock Historical Society and the newly organized Potters of the Blue Ridge.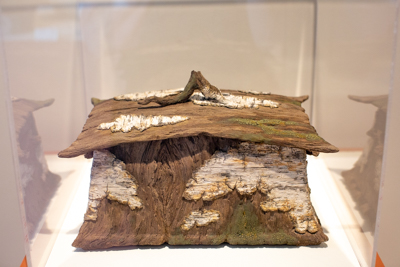 Image Credit: Eric Serritella, Box of Dreams, 2010. Clay. Courtesy of the Artist.
Eric Serritella, began life as an artist in 2001 after a 16-year corporate career. He focuses on realism with an emphasis on the design and texture of one-of-a-kind, hand-carved ceramic trompe l'oeil sculptures transformed into birch trees, charred wood and weathered logs.
Eric holds a BA from Ithaca College (1985), his primary applied art training came in the form of two artist residencies studying with Ah Leon and four clay masters in Taiwan in 2004 and 2006. Both were funded in part by New York Foundation for the Arts (NYFA) grants. His work has been exhibited, awarded and collected on five continents. They are included in many permanent museum collections including among others The Metropolitan Museum of Art, the Smithsonian American Art Museum, the Carnegie Museum of Art, and the Mint Museum. Serritella lists his influences as the historic Yixing teapots of the 1600s, Japanese wabi-sabi philosophy, Asian calligraphy and paintings, L. C. Tiffany glass windows, and birch trees, which he calls the angels of the forest.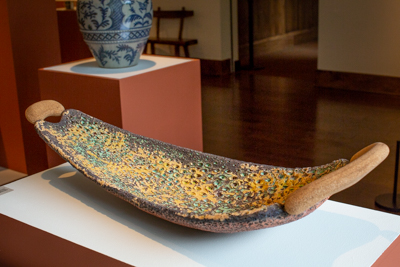 Image Credit: Kathy Triplett, Geo Platter, 2017. Clay, cork. Courtesy of the artist.
Kathy Triplett, was born in Warrenton, Virginia, and grew up in Orangeburg, South Carolina. She is a ceramist who studied in Cholyla, Mexico, and she has a BA from Agnes Scott College in Decatur, Georgia. Her work has been the subject matter in several exhibitions in North Carolina. Her ceramics have been exhibited in the Asheville Art Museum, the Folk Art Center in Asheville, the National Museum of Ceramic Art in Baltimore, the American Craft Museum in NYC and the Society of Arts and Crafts in Boston. The Charlotte-Mecklenburg Utility Department Headquarters commissioned her to create a ceramic wall relief. Triplett is a member of the Southern Highland Handicraft Guild and Piedmont Craftsmen. many of her works show small electronic parts that are added to contrast with some natural materials or with the texture or natural colors of the tile. To Triplett, this contrast brings to mind the disconnection between the two worlds of man and nature that can be so challenging to face.