Annual Meeting and Special Talk with Nido Qubein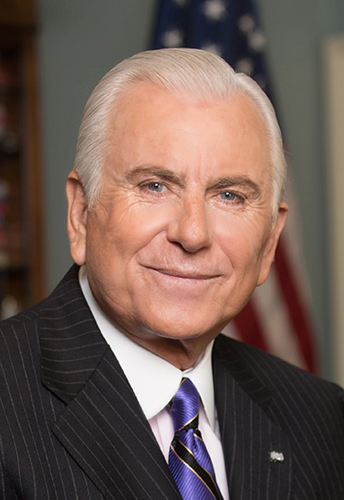 **This event is now FULL. We are still taking names for a waitlist. Call 828-295-9099 for questions.**
Museum members are invited to attend BRAHM's 2018 Annual Meeting at the Blowing Rock Art & History Museum where we review 2017 and elect new Board Members for 2018-2019. This year's Annual Meeting will also include a special talk with Nido Qubein. Businessman and motivational speaker Nido Qubein is the president of High Point University. During his tenure as HPU president, the university has grown considerably with the addition of campus buildings and several academic departments.
About the Speaker
Dr. Nido Qubein is an accomplished university president and a nationally recognized author, speaker, and leader. He came to the United States with $50 in his pocket and a few words of English in his vocabulary … yet went on to become one of America's most sought-after speakers and consultants.
As a university president, the story of his tenure at High Point University is known to many. In less than a decade, he led the institution to phenomenal growth (5,000 students) and significant academic advancement, tripling its size and moving it to the number one spot among Best Colleges in the South.
As an American citizen, President Qubein has been the recipient of some of the highest national awards, including induction into the Horatio Alger Association for Distinguished Americans with General Colin Powell, Oprah Winfrey, and the founder of Starbucks, Howard Schultz. He is the recipient of DAR's Americanism Award and the Ellis Island Medal of Honor, along with four U.S. presidents. He is a member of the International Speakers Hall of Fame and, in fact, has served as president of the National Speakers Association.
As a business leader, he is the chairman of Great Harvest Bread Company with 220 stores in 43 states. He serves on the boards of several national organizations including BB&T (a Fortune 500 company with $230 billion in assets), the La-Z-Boy Corporation (one of the largest and most recognized furniture brands worldwide) and nThrive, a leading healthcare company.
President Qubein is the author of a dozen books and scores of leadership audio and visual recordings translated into many languages. The Biography Channel televised his Emmy-nominated life story titled "A Life of Success and Significance."
In his home city of High Point, North Carolina, he has been named both the Citizen of the Year and the Philanthropist of the Year. His foundation has invested millions in scholarships for deserving young people and his family has been among the largest benefactors to High Point University and other organizations.
In February 2018, President Qubein was selected as one of North Carolina's most influential leaders in the Power 100 NC Leaders list published this week.
Seating for this event will be limited, and thus, all attendees will need to RSVP.
Parking: Overflow parking will be available at St. Mary's and Rumple.
Note: This event is for Museum members ONLY. Learn more about becoming a Museum member.