SOLD OUT! **ALL TICKETS WILL BE HELD AT WILL CALL (FRONT DESK)** Magic will fill the air on Saturday, May 12, at the Blowing Rock Art and History Museum. Area International Brotherhood of Magicians (I. B. M.) members of Ring #392 will present a family-oriented magic show called "Magic in the Mountains" that will feature a wide variety of cabaret magic including ropes, coins, cards, rings, mentalism, comedy and a few surprises!
Ring #392 was organized in 2013 by Blowing Rock resident, retired ophthalmologist and magician, Dr. Gerry Hayes in honor of Dr. William E. (Bill) Spooner, also of Blowing Rock. Dr. Spooner is a former International President of the most prestigious magic organization in the world - the International Brotherhood of Magicians. An author, lecturer, researcher, sculptor, collector, educator and inventor of magic effects, Dr. Spooner has received many honors over the years culminating with the rarest and highest award that can be given by the I. B. M - the Medallion of Honor in 2012. Bill will be the Emcee for this production.
Prior to the show there will be walk around close up magic presented by Fletcher Roberts, a 15 year-old student from Boone, NC. Though fairly new to magic, Fletcher has developed some incredible tricks that will amaze you.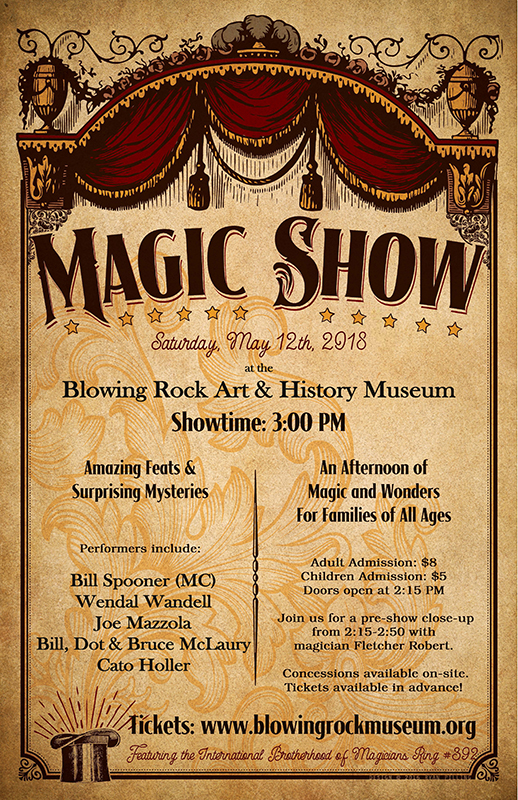 About the Performers
Author, teacher and theatrical performer T.J. Shimeld becomes Wendal Wandell, the Wordsmith of Wonder, to the delight of audiences of all ages. From private parties, to educational shows for schools and libraries, to large stage productions, to theme parks like Water Country in Portsmouth, New Hampshire and Santa's Land Fun Park & Zoo in Cherokee, North Carolina and Pigeon Forge Tennessee this summer, Shimeld uses his thirty years of experience as a family entertainer to combine comedy, juggling, magic, music, and costumes to create unforgettable magical moments. Shimeld shares his love of the art of magic through his books, articles, and workshops on the history and performance of magic. He is co-founder and president of The Vanishing Wheelchair, Inc., a non-profit public charity that helps people with disabilities find their passion in life through the arts.
Dr. Joe Mazzola is a family friendly entertainer who has been successfully wowing audiences throughout the United States for over 30 years. His career has allowed him to be a featured performer for cruise lines, corporate events and private functions. His passion is to combine magic, comedy and puppetry into a memorable magical experience for his audiences. He is a member of the International Brotherhood of Magicians, The Fellowship of Christian Magicians and a founding life member of Kidabra International. He offers a delightful array of magical effects in a colorful and entertaining style that endears him to his audiences. Dr. Mazzola particularly enjoys children's magic and making the impossible believable. He has somehow located the looking glass that Alice in Wonderland used. If we are lucky, he may share this with us!
Bill, Dot and their son, Bruce McLaury are a family that has graced the magic world for many years. As the Magical McLaurys, they have performed at schools, fairs, birthday parties, organizational and seasonal events and just about any other venue you can imagine. Bruce states that he as been on stage with his parents since he could walk! Their focus on comedy and children's magic has brought them and their audiences much laughter, joy and wonder. Long time ambassadors of magic, you'll thoroughly enjoy the Magical McLaurys!
Dr. Cato Holler is a Magician Member of the Academy of Magical Arts of the Magic Castle in Hollywood, California, The Magic Collector's Association, the International Brotherhood of Magicians, Vice President of I. B. M. Ring #392 and an inventor of numerous illusions and magic effects. You will be amazed as the Magic of Cato skillfully presents a variety of mind-blowing magic using silks, blocks, ropes and some unexpected surprises. When not doing magic, you may find Cato and his wife Susan exploring caves around the world as they are both world-class cavers. Dr. Holler was recently named Fellow Emeritus of the world famous Explorer's Club.
Seating is limited to approximately 80 people, so please make reservations by calling (828)295-9099 or filling out the registration form on this page. Tickets are $8 for adults, $5 for children up to age 12 or $25 for an entire family.