Movies at the Museum: MC Richards: The Fire Within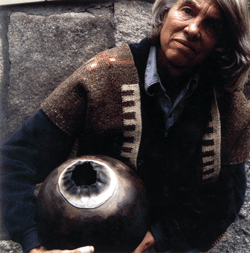 *RESCHEDULED from January 18th*
In the film, we witness M.C. Richards engaging in contemplative questioning regarding the nature of art, imagination, wholeness, community, and our place in the cosmos. She inspires us to live creatively, to believe in ourselves, to experience the sensuality of existence. This is a film not just about M.C. It's about all of our quests to become authentic creators of art and community.
Also active in Greenwich House Pottery, M.C. was a central player in the New York avant-garde scene in the early 50s when she lived in Stony Point, New York with composers John Cage and David Tudor, potters Karen Karnes and David Weinrib, architect Paul Williams and children's author Vera Williams.
Her influence goes well beyond the visual art world. As the first English translator of THE THEATER AND ITS DOUBLE, by French actor/playwright/activist Antonin Artaud, M.C. is credited by director Arthur Penn and avant-garde Living Theater co-founder Judith Malina, as being instrumental in changing the course of theater in America for all time. The translation, to this day, is considered the authority.
In this thought-provoking documentary, you hear from a cadre of her associates and followers as they carry on her important work of inspiring people to live creatively. The hour documentary features interviews with many renowned artists, poets, thinkers, and theologians including: Marjory Bankson, Paulus Berensohn, Julia Connor, Merce Cunningham, Adriana Diaz, Martin Duberman, Howard Evans, Matthew Fox, Gertrude Hughes, Karen Karnes, George Kokis, Judith Malina, Amy Evans McClure, Arthur Penn, and Robert Turner.
After the film, we will have a discussion led by M.C.'s student and friend Cynthia Bringle. Cynthia graduated from NY State College of Ceramics in Alfred, NY. She is a North Carolina Living Treasure and holds an honorary Doctorate in Fine Arts from Memphis College of Art.
Free for Museum members. $5 students with ID, seniors, active military, EBT cardholders, $7 general admission