View of Notre Dame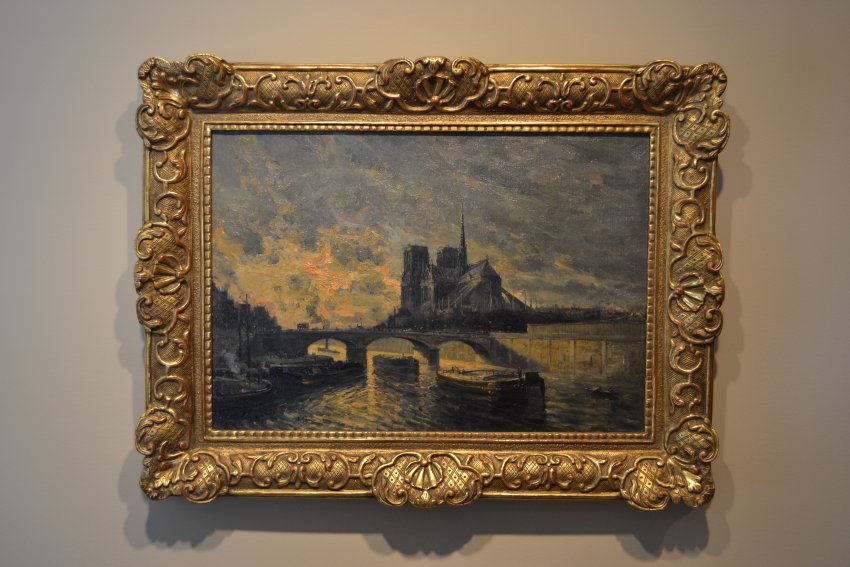 Frank Myers Boggs
View of Notre Dame, 01/18/1898
Oil on Canvas
Permanent Collection 2014.01.02
Frank Myers Boggs was an American artist, typically categorized as an impressionist painter, born in Springfield, Ohio in 1855. His first glimpse of the art world, was working as a wood engraver at the age of seventeen.
In 1876, he decided to study in Paris as a set designer, but instead enrolled in the Ecole des Beaux Arts in Paris for painting, under Jean Leon Gerome. When returning to America, his art was not received well, though it was technically very well done. Many artists in the National Academy of Design didn't take fondly to American artists that studied abroad. So, he stayed in Paris for the remainder of his life and was wildly accepted there.
He was well known for his atmospheric paintings of the ports in France and his works were frequently shown there. They were also shared in the National Academy of Design in New York and the Pennsylvania Academy of Fine Arts. His style of painting is known as plein-air, as he captured the constantly changing skies and waters of the local ports with dark and neutral tones. Boggs died in Paris, in 1926 and was awarded France's Legion of Honour shortly after his death.​