Still Life with Self Portait Reflection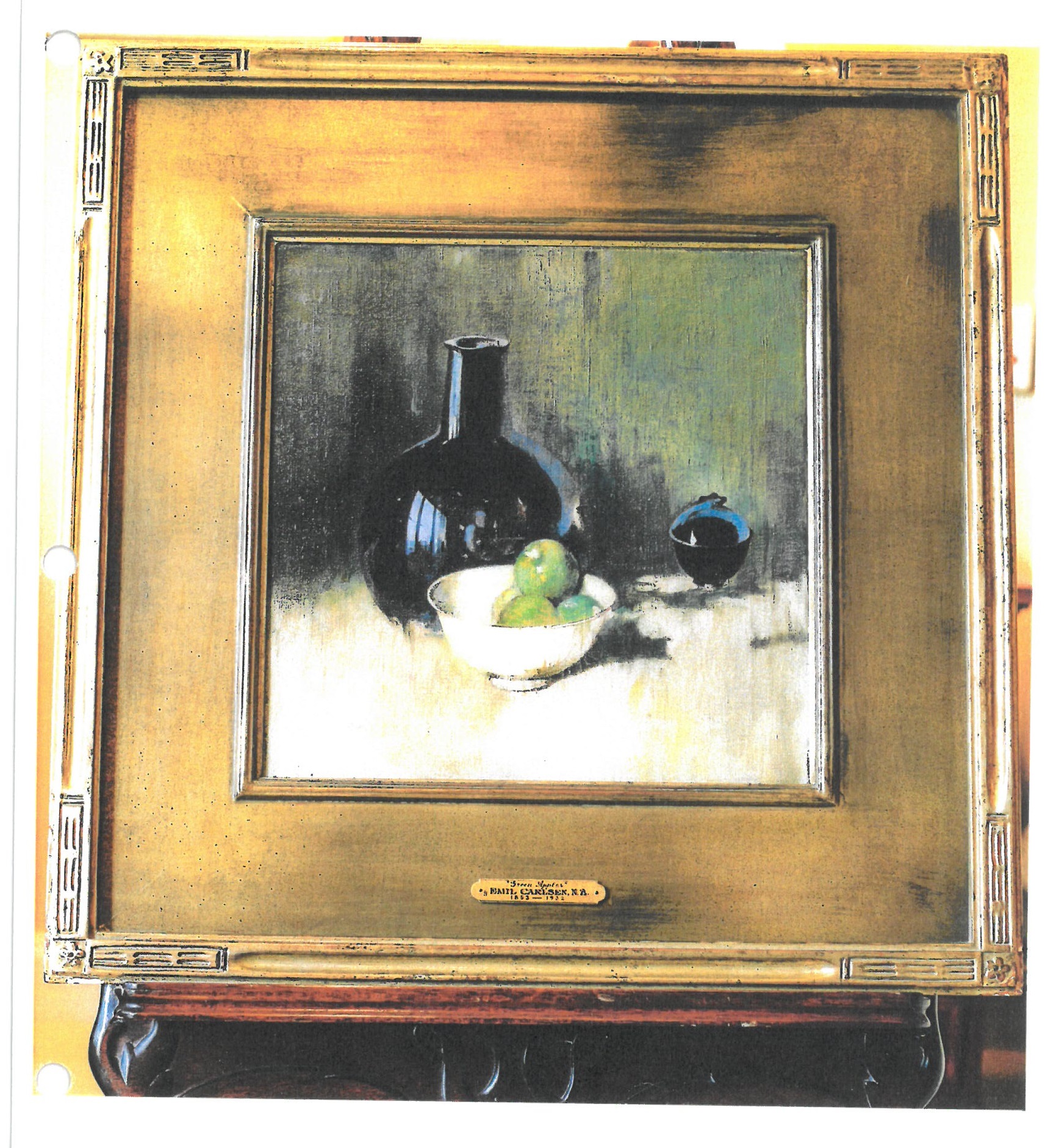 Emil Carlsen
Still Life with Self Portrait Reflection
Permanent Collection 2016.01.02
Soren Emil Carlsen (1848-1932) emigrated from Denmark and arrived in the United States in 1872, settling in Chicago. Although trained as an architect, he initially worked with Laurits Bernhard Holst, a Danish painter in Chicago, who gave over to Carlsen his studio when the instructor returned home. Carlsen remained mostly self-taught, and his early ventures to France included no formal instruction.
Carlsen's first trip to Paris in 1875 introduced him to the work of the eighteenth-century French artist Jean-Baptiste-Simeon Chardin and Chardin's incorporation of the seventeeth century Dutch still-life tradition in compositions. Ironically, Carlsen began teaching art in Chicago, at a school that would later become part of the Art Istitute of Chicago. Calsen's early career also included subsequent moves to New York and Boston. Although he established himself as a painter, economic misfortune led him to work as an engraver and designer. By the 1880s, Carlsen was exhibiting his paintings more consistently and he received a significant commission from a New York dealer to paint still-life images.
Art education played a role continuously throughout Carlsen's career; he served as the Director of San Francisco Art Association's school, and he taught at the National Academy of Design and the Pennsylvania Academy of the Fine Arts. Although Carlsen's oeuvre contains impressionistic landscapes and academic portraiture, his still-life paintings indicate his strongest and most successful painting explorations.​
Compared to Carlsen's contemporaries and considering his influence as a teacher, little has been written about Carlsen and his dedication to the still life. More than likely these biases result from the position that is relegated to still-life paintings within the thematic hierarchy of painting. During the artist's lifetime one critic noted, "Emil Carlsen is unquestionably the most accomplished master of still-life painting in American today... It is evident that Carlsen has lifted his art to a height it has never reached before."