Pine Needles, Reflections, Pamlico Sound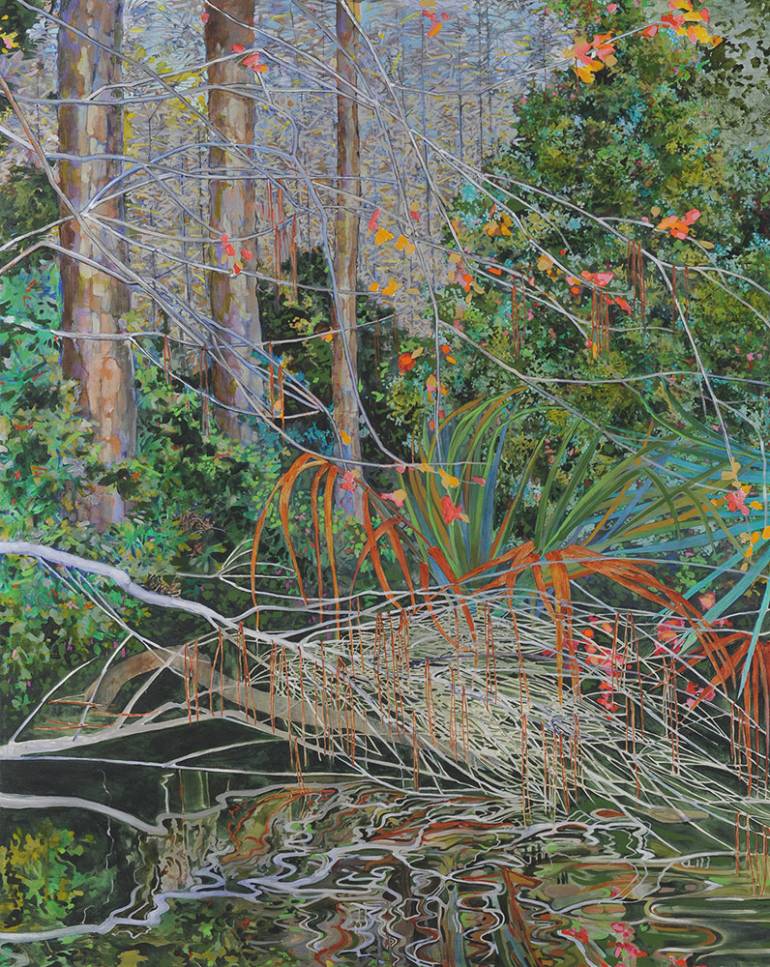 Elizabeth Bradford
Pine Needles, Reflections, Pamlico Sound, 2015
Acrylic on Canvas, 72 x 48 inches
Permanent Collection 2016.02.01
ARTIST STATEMENT
I am descended from generations of North Carolina farmers and I reflect those strong southern roots in my work. My father and grandfather rode a tractor over our acres, and in my own way, I continue that tradition as a contemporary painter—working that same land with my eyes and my brush. During most of my adult life I have watched the loss of open spaces, the harvesting of old growth forests and the construction of thousands of new houses—the "final harvest". Raised a naturalist I couldn't escape painting an elegy for the land as I remember it and as it can still be found—in hidden pockets of the forests. My life falls on the cusp of change; born into a world of post war farming, I now live and work in the urban, technological south. My work attempts to seize the look and feel of this place before it is forever changed, and to perhaps cause the viewer to weigh the value of those changes.
As much as I record what is around me, I am also portraying my own spirit in these paintings. The images stand in for states of mind and heart that occasionally transcend place. I find myself inventing color, seeing auras around trees, and patterns that don't exist except inside me, but show up exploded on the surface of a creekbed or the leaves on the forest floor.
My process has evolved from several long explorations of various media. I currently work in both acrylic and oil on canvas or board, in every possible scale from intimate to large and inescapable. The work is informed by the needlework traditions of southern women since North Carolina was settled, and the Pattern and Decoration movement of the 70's. Emotionally, the work is connected to Earth Art. It bows to the traditions of abstraction, while also striving to clearly represent the depth of my experience of nature . Most of all, I hope it communicates both a meditation and a prayer for this lovely place on earth.
BIOGRAPHY
Elizabeth Bradford is a native Carolinian, with deep roots in the rural landscape. During much of her career she has worked to record the traditional look of the land prior to its urbanization. Her work has centered on images drawn from her rural community and her family's ancestral farm in north Mecklenburg County where she lives. In recent years she has, as well, painted the countries to which she has traveled, and explored her own inner landscape through a series of archetypal self portraits. She studied art at Randolph Macon Woman's College, the University of North Carolina, and at Davidson College, and is represented in corporate and private collections all over the United States. She was included in the United States' State Department's Art In Embassies Program which places representative work by American artists in embassies around the world. In 2006 Bradford was chosen as the featured artist for North Carolina's first statewide Women's Conference. She has had many solo exhibitions, including shows at the University of North Carolina at Charlotte and Davidson College. Her work focuses on intricate formal patterns found in nature, and on the experience of color, and ranges from small and intimate to large in scale. Currently her medium is acrylic on canvas or wood panel. Though representational , her paintings have a strong connection to the traditions of abstraction, and show, as well, the influence of the Pattern and Decoration movement and Pop Art.
Research provided by the artist, Elizabeth Bradford.