Pansies Yellow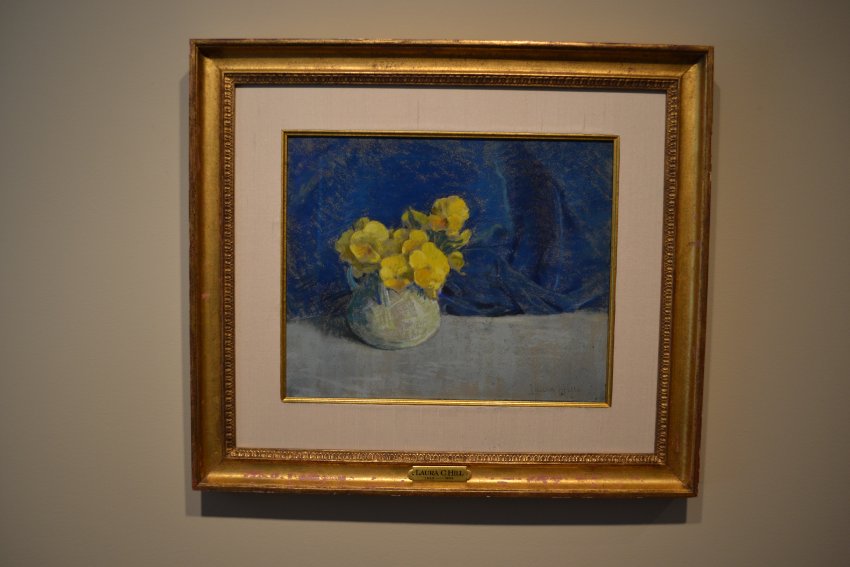 Laura Coombs Hills
Pansies Yellow
Pastel on Paper
Permanent Collection 2014.01.06
Laura Coombs Hills was an American miniature and Impressionist artist, born in Massachusetts in 1859. Hills works were very popular in Boston, within the twenty years of showing in Frank Bayley's Copley Gallery and the Guild of Boston Artists. The opening day of her exhibition showings would be filled with people and 75-100% of her works would sell within the first day of opening. Many of her works were still life and flower arrangements, done in pastels or watercolor
Hills was one of the first women to exhibit in the Boston Water Color Club in 1980. She was also the first miniature painter elected to the Society of American Artists, and formed her own society called the American Society of Miniature Painters. Aside from her fine art works, she also worked as a successful commercial artist, ranging from greeting cards and calendars to illustrating children's books.
Little is known of her early studies, but it is known that she was involved in the New York Art Students League and spent a brief time at the Cowles Art School. Hills took many trips abroad, with her sister Lizzie, and the influence of these trips can be seen in her work. While abroad in Europe, she came across a miniature painted on ivory and took that practice home with her.
She has won many awards for her paintings, including medals in the Paris Exposition in 1900, the Pan-American Exposition in 1901, the St. Louis Exposition in 1904, and the Panama-Pacific International Exposition in 1915. Hills continued to paint until her death, in 1952.