Menhaden Fishing Fleet, Beaufort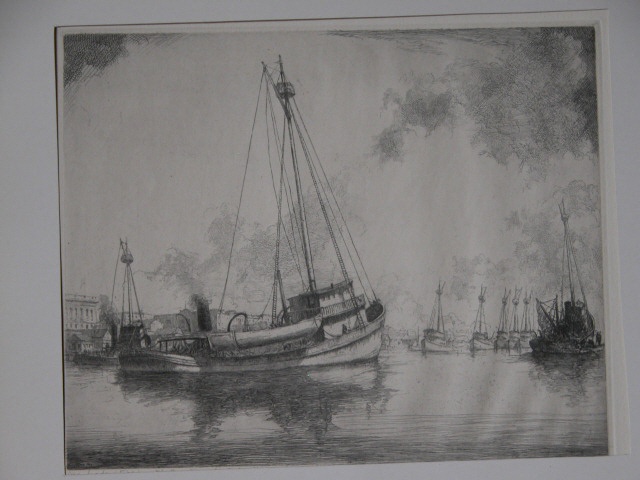 Louis Orr
Menhaden Fishing Fleet, Beaufort, 1947
Etching
Permanent Collection 2003.1.17
Master etcher Louis Orr was born in Hartford, Connecticut to a family of artists- his father, his uncle, and his grandfather were all engravers and printers. Despite their best efforts to discourage him from following in their footsteps, he studied at the Hartford Art School, the Art Student's League, and the Academie Julian in Paris.
While in Paris, Orr met and married his wife and built a reputation as a talented printmaker. It was also in Paris that he met North Carolina native, Robert Lee Humber, with whom he developed a plan to create a series of etchings of North Caroline landmarks.
In 1940, Orr settled in North Carolina where, over the next twelve years, he would bring his vision to fruition. He completed fifty plates of historical sites, landscapes, houses, and plantations around the state, which he released in portfolios of five per year. Today, Louis Orr etchings of North Carolina are displayed in museums, courthouses, and libraries and play a distinguished role in the visual preservation of the state's history.
After completing his North Carolina series, Orr returned to Connecticut, where he lived in his hometown of Hartford for the remainder of his life.