May Lee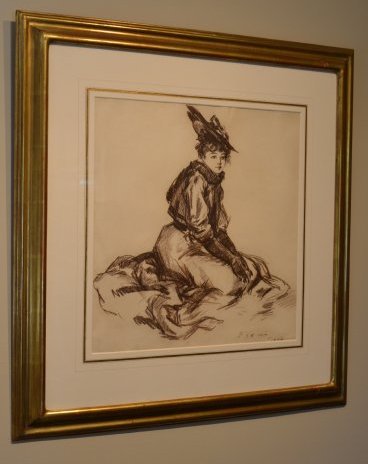 Everett Shinn
May Lee, 1906
Pastel on Paper
Permanent Collection 2014.01.09
A member of The Eight and a remarkable, rather theatrical personality, Everett Shinn was born to Quaker parents and was an undisciplined boy. Shinn's early works included mural work, screens, and door panels for the Old Metropolitan Opera House in New York and other private residences. In 1899, Boussod-Valdon Galleries gave him his first one-man show.
Shinn visited Europe in 1900, made drawings of London and Paris and exhibited at Goupil's in Paris. After his return to the US, Shinn lost interest in lower class urban life. Unlike most members of the Eight, who focused on life of the tenement and the street, Shinn loved the glamor of Uptown, fashionably dressed ladies. Above all, he wanted to depict the excitement of the theater and was an amateur playwright.
Shinn was not part of the 1904 National Arts Club Exhibition of works by future member of the Eight, but Gallatin mentioned him in 1906 as a kind of American Degas. The author praised Shinn's draftsmanship and the technique of his pastels; "Very real they are: we might almost imagine ourselves looking in upon the actual scene."
Not much has been written on Shinn's activities between 1920 and 1940. He did not exhibit often but continued to work as an illustrator. In the 1940s, Shinn was represented by Feragil Galleries. He contributed "Recollections of the Eight," an essay in the Brooklyn Museum's catalogue for it's exhibition, "The Eight," in November of 1943.​