Death Cart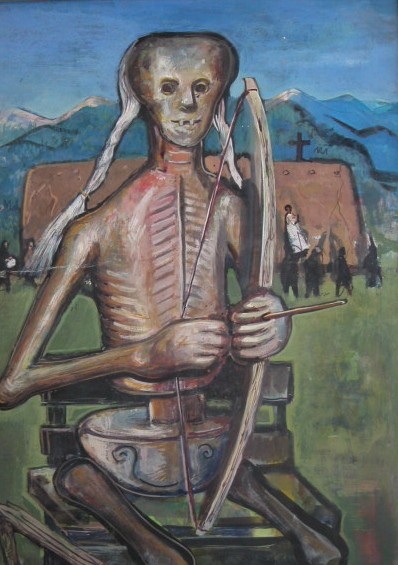 Philip Moose
Death Cart
Tempura on paper
Permanent Collection 2006.1.20
An excerpt from the catalog that we keep in the museum about Philip. This was written by Francie Troy and Sue Glenn.
"I knew what I wanted to do when I was ten" - Philip Moose
What he wanted to do was paint. Early in his childhood Philip observed a neighbor's art displayed on the walls of her home. "She had paintings in her home and I thought that was great." This was the first window of inspiration open to the future artist. The neighbor was Charlie Warlick Hall.
"She gave me, not so much encouragement, as stimulation. I knew that somehow I was going to be an artist." Philip Moose was the fifth child of seven children of Sallie Anthony Moose and James Samuel Moose. He was born January 16, 1921, in Newton, a small textile town in North Carolina. Miss Carrie Thornton, his second grade teacher, recognizing an exceptional talent in the little boy, told his mother "Someday Philip is going to be great."