Canoes and Salboats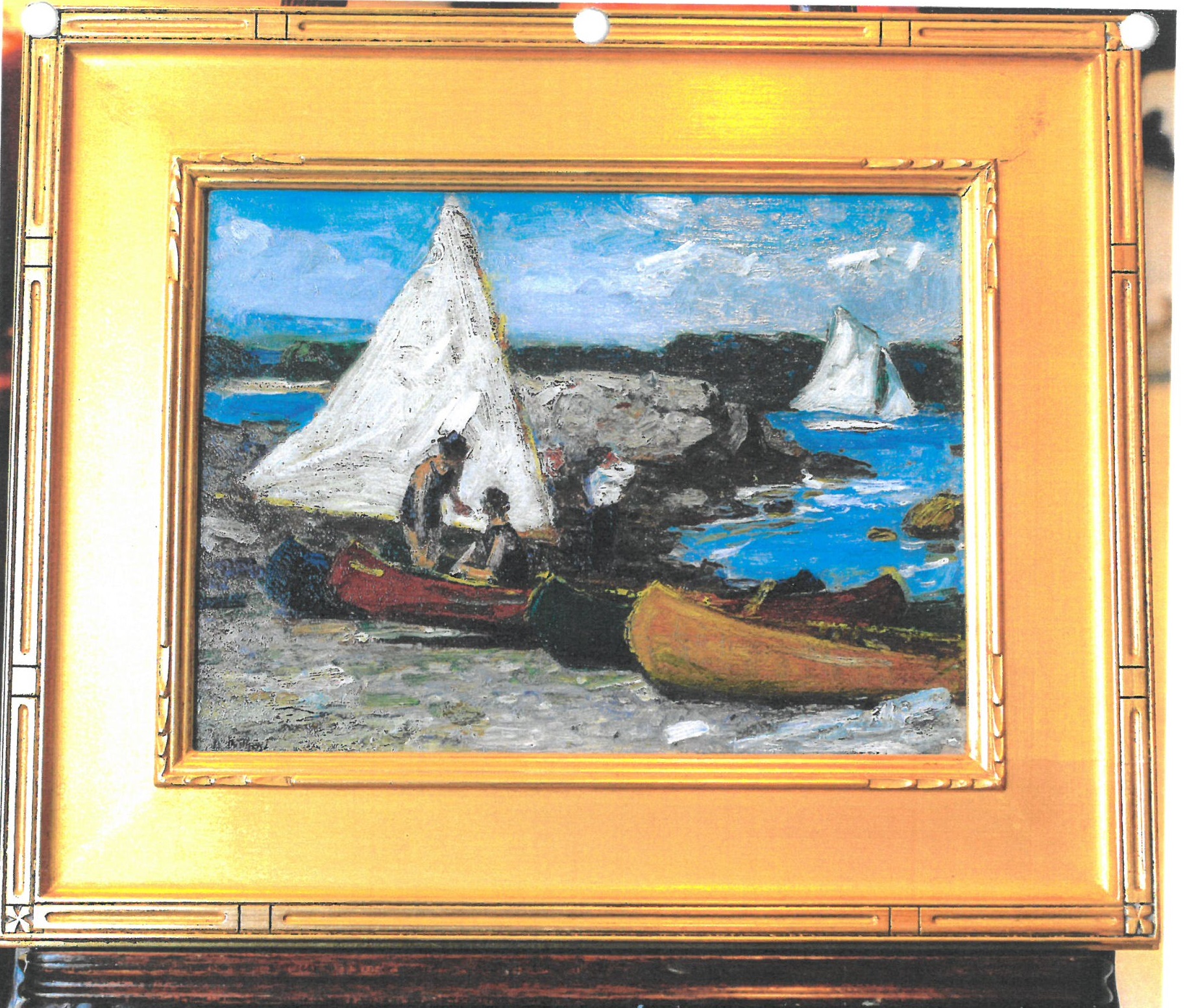 Edward Henry Potthast
Canoes and Sailboats
Oil on Board
Permanent Collection 2016.01.05
Potthast received his early art training at the McMicken School of Design in Cincinnati while supporting himself as a lithographer and illustrator. In the fall of 1882, he traveled to Antwerp in the company of fellow artists Joseph Henry Sharp and Charles Haider. After a brief period of instruction in the studio of Charles Veriat, he went on to Munich. During the next three years he studied under Nicolas Gysis, Ludwig von Loefftz and possibly, Carl Marr.
Edward Potthast returned to Cincinnati around 1892, where he continued to work as a lithographer. In 1896, he moved to New York City, free-lancing for such popular magazines as Scribners' and Century and painting in his spare time. He soon became a lively figure in New York art circles, exhibiting and receiving numerous awards and prizes at the National Academy of Design, the Society of American Artists and the American Watercolor Society. After developing a steady clientele for his paintings (he had dealers in Chicago and Cincinnati as well as New York), he was able to give up his work as a litographer completely.
Potthast was the first Cincinnati-based artist to work in the impressionist mode. Although he continued to paint landscapes throughout his career, after his move to New York, he became renowned for his optimistic, sun-drenched beach scenes in which he combined the vivid colors of Impressionism with the strong brushwork of the Munich School. Among his favorite sires were Coney Island and Rockaway Beach, both readily accessible from New York City. He also took frequent trips along the New England coast, stopping frequently at Ogunquit, Maine. His other painting locales included the Grand Canyon and the Canadian Rockies, where he sought in search of new sketching material.
In 1889 or 1890, he visited Grez. Although he had concentrated on figure painting while in Munich, a meeting with the American Impressionist painters Robert Vonnoh and Roderick O'Connor in Grez, promopted him to turn to landscape subjects and a lighter, more colorful palette. ​
He died in his studio from a sudden heart attack in 1927. Representative examples of his work can be found in major public and private collections throughout the United States, 'as listed in Honors'