Canal Cut, Pennsylvania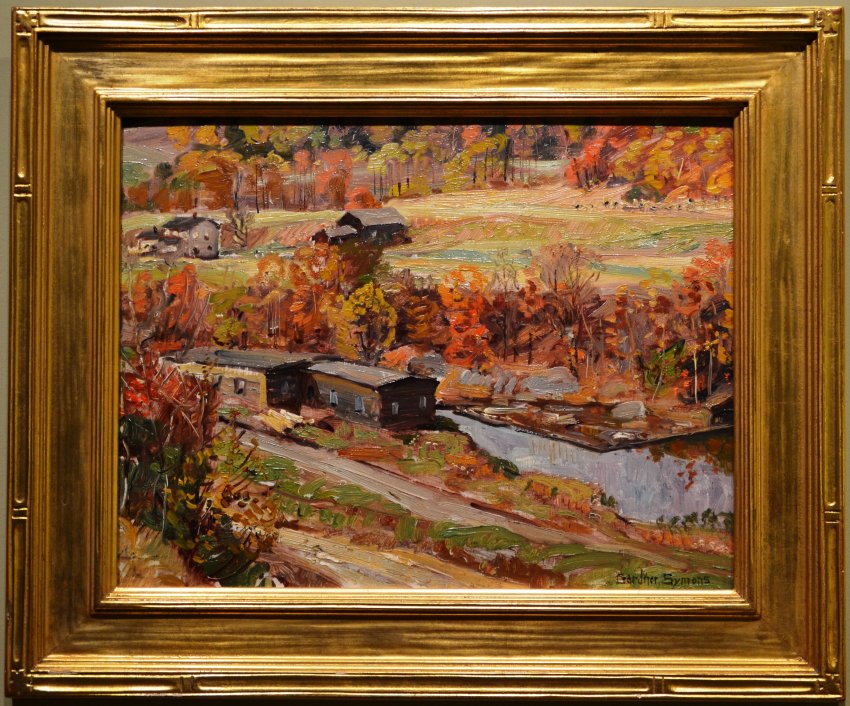 George Gardner Symons
Canal Cut, Pennsylvania
Oil on Panel
Permanent Collection 2013.02.07
Born circa 1861 in Chicago, Illinois was a plein-air Impressionist painter, landscape and marine artist.
Symons was one of America's more noted plein-air painters who combined styles of impressionism and realism. His works are cited for their energy and simplicity, and he often did panoramic views. He was born in Chicago, Illinois in 1861, with the name of George Gardner Simon, but he changed his last name to Symons when he returned from study in England because of concern about anti-semitism. Not much is known about his early life.
He worked in Chicago as a commercial artist, and about 1903 returned to California with Wendt and built a studio in Laguna Beach. He became active in western art societies including the California Art Club. He returned often, but maintained his primary studio in Brooklyn, New York, and also did a lot of painting in Colerain, Massachusetts.
He first studied at the Chicago Art Institute where he became a close, life-long friend of William Wendt. They painted together in California and then in Cornwall, England in 1898. He also studied in Paris, and Munich and London, and joining a colony of artists at St. Ives, adopted the plein-air techniques of Julius Olsson, Adrian Stokes, and Rudolph Hellwag
Among the collections where his work can be found are the Brooklyn Institute of Arts and Sciences; the Art Institute of Chicago, and the Fleisher Museum in Scottsdale, Arizona. Associations he was a member of include the National Academy of Design, the National Arts Club, the Institute of the Arts and Letters, the Lotos, Century, and Salmagundi Clubs. He was also a member of the Royal Society of British Artists and the Union Internationale des Beaux Arts et des Lettres.
He painted entirely outdoors, frequently working in Arizona, doing desert landscape and the Grand Canyon views, which "were well received," (Dawdy, 424), but he is best known for his New England snow scenes, especially of the Berkshire Mountains and Pennsylvania Impressionist landscapes.