Blonde Girl (untitled study for "June")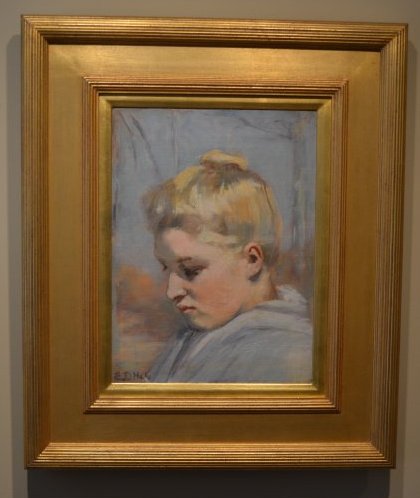 Ellen Day Hale
Blond Girl (untitled study for "June"), c.1890
Oil on Canvas
Permanent Collection 2014.01.04
Best known for her impressionist figure studies, Elizabeth Day Hale trained at the Pennsylvania Academy of Fine Arts, the Academie Colarossi, and the Academie Julian in France.
Hale first exhibited her work in 1876 at the Boston Art Club with works subsequently displayed at London's Royal Academy of Arts and the Paris Salon.
Her works are in the collections of Pennsylvania Academy of the Fine Arts and Philadelphia Museum of Art, the National Museum of American History, the US Capital Collection, and the National Museum of Women in the Arts. Her self-portrait is in the Boston Museum of Fine Arts.​