Three times a year—winter, summer, and fall—on Thursday evenings from 5:00pm - 7:30 pm, the Museum hosts receptions to celebrate its latest changeover of exhibitions in the galleries. These events are free and open to the public. Refreshments and live music are provided.
---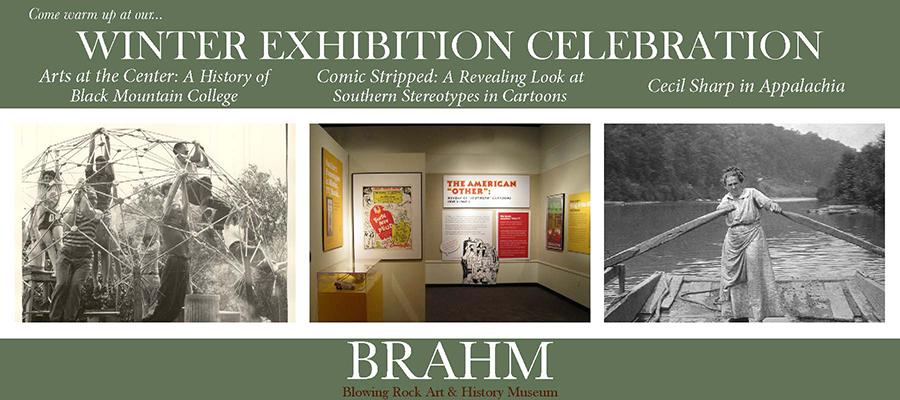 The Blowing Rock Art & History Museum (BRAHM) invites the community to celebrate the grand opening of three exhibitions with a reception on Thursday, November 30 from 5 to 7:30 p.m. The Museum will provide hors d'oeuvres and free admission throughout the evening. The event is open to the public. Along with a cash bar, there will be a special seasonal beer tasting offered by Blowing Rock Brewing Company.
The Museum is featuring three new exhibitions at the reception: "Arts at the Center: A History of Black Mountain College," "Comic Stripped: A Revealing Look at Southern Stereotypes in Cartoons," and "Cecil Sharp in Appalachia." The Museum's on-going exhibitions, "Selections from the Collection" and the recent "Village of Blowing Rock: Exploring Our History" will also be open, along with a special exhibition of photographs by local artist, Shauna Caldwell.
"We're looking forward to sharing our latest line up of exhibitions with everyone," says BRAHM Executive Director, Lee Carol Giduz. "We've been collaborating closely with our friends at the Turchin Center for the Visual Arts and Appalachian State University to support their upcoming Black Mountain College Semester this Spring 2018 with one of our latest exhibitions, Arts at the Center: A History of Black Mountain College. There will be a lot of related programming on campus and at BRAHM that you can take advantage of early next year. Comic Stripped is a visually engaging exhibition that explores the history of southern stereotypes in classic comics and cartoons and how some of these stereotypes have persisted today. The collection of historic photographs by Cecil Sharp are such a treat to have as they travel around the Appalachian region; we're glad they were able to make a stop at BRAHM. And with our newly refreshed permanent galleries featuring works from our collection, we hope everyone will find something they love at the museum this winter season."
Arts at the Center: A History of Black Mountain College
November 24, 2017 - April 7, 2018
Special thanks to the NC Humanities Council, the Center for Appalachian Studies at Appalachian State University, the Turchin Center for the Visual Arts, the Western Regional Archives of NC, and the Asheville Art Museum.
Black Mountain College was an experiment in progressive education that brought together creative minds from all over the globe to the rural Swannanoa Valley of Black Mountain, North Carolina. As a liberal arts school, the College was short lived, opening in 1933 and closing by 1957 due to financial struggles and other structural challenges. What happened during those years, however, was impactful and progressive, and it's lasting legacy continues to influence the way we look at education, the arts, democracy, and social justice. John Andrew Rice, Jr. founded the College with the idea that the arts should be at the center of a liberal arts education. Some of the worlds greatest modern artists, writers, performers, musicians, and even scientists served as students and faculty at Black Mountain College, including Josef & Anni Albers, Charles Olsen, Merce Cunningham, Robert Rauschenberg, Willem & Elaine de Kooning, Buckminster Fuller, M.C. Richards, and many others. The history of Black Mountain College continues to sing throughout the Appalachian mountains, and its influences and ideas echo even further.
Arts at the Center: A History of Black Mountain College explores several components of this rich history and its relationship to North Carolina. The exhibition is opening in collaboration with the Black Mountain College Semester at Appalachian State University in Boone, NC, a culmination of exhibitions, events, and research projects that will run through Spring 2018.
Comic Stripped: A Revealing Look at Southern Stereotypes in Cartoons
November 11, 2017 - March 10, 2018
Created by the Levine Museum of the New South, Charlotte, NC and made possible by a generous grant from the RLJ Companies. The exhibit is sponsored by Mast General Store.
Comic Stripped: A Revealing Look at Southern Stereotypes in Cartoons offers visitors a chance to look back thoughtfully at cartoons that have shaped America's vision of the South. The exhibit showcases six long-running cartoons that have themselves become part of Southern history: hugely popular Li`l Abner, Mountain Boys, and Pogo of the 1930s - 1970s; perennial Snuffy Smith; and the recent Kudzu and television's King of the Hill.
The cartoonists drew from Southern history, real and imagined. For instance, Walt Kelly set Pogo amid the natural splendor of Georgia's Okefenokee Swamp, introducing millions of readers to this just-designated National Wildlife Refuge. Al Capp's Li`l Abner played with the notion of endless mountain feuds, greatly exaggerating the actual history of the Hatfields and McCoys. Doug Marlette's Kudzu, begun in the 1980s, humorously reflected on black-white relations in the newly desegregated South.
Visitors of all ages will enjoy Comic Stripped as an opportunity of immersing themselves in the funny pages of yore. Along with the humor, the exhibit offers insights about the shaping of the Southern image — by artists, the media and pop culture, and within our own minds as well.
Cecil Sharp in Appalachia
November 30, 2017 - January 31, 2018
On loan from the Country Dance and Song Society, with permission of the English Folk Dance and Song Society, Cecil Sharp House, London.
This is the first US exhibit of rare, century-old photos taken by British song collector Cecil Sharp. The photographs feature some of the singers Sharp visited during his travels. Cecil Sharp and his assistant Maud Karpeles collected variants of English ballads between 1916-1918; their collecting work began in Hot Springs, NC, with the help of Olive Campbell, founder of the John C. Campbell Folk School. By the end of their 46-week travels through North Carolina, Virginia, West Virginia, Kentucky and Tennessee, the pair had collected more than 1600 variants of English ballads collected from 281 singers.
While the songs have been published, photos of the singers taken by Sharp have never been exhibited in the United States. The exhibit is part of a three-year centennial observance of Sharp's and Karpeles' work.
Project coordinator Donald Hughes of Rougemont, NC, explains. "Sharp would send photos back to the singers as a gift of remembrance. The strong desire to document and the personal nature of his relationship with the Appalachian people resulted in a set of powerful and introspective images for history to hold."
Sharp summarized the travels, writing, "It is no exaggeration to say that some of the hours I passed sitting on the porch (i.e. verandah) of a log-cabin, talking and listening to songs were amongst the pleasantest I have ever spent."
For more information on the work and travels of Cecil Sharp and Maud Karpeles visit www.cecilsharpinappalachia.org
Healers, Photographs by Shauna Caldwell
November 11 - December 2, 2017
Community artist and upcoming Appalachian State University graduate Shauna Caldwell is showcasing her latest series of color photographs as a special exhibition at the Museum. "The women in this series have an intimate connection to the land and a beautiful and poetic way of communicating through plants and herbal medicine," says Caldwell. "I want to express my gratitude for these inspirational women while deepening my relationship with the soft and quiet wisdom of plants." This exhibition is open as part of the 2017 BFA Senior Studio Show, featuring works by students in the Department of Art at Appalachian State University in Boone, NC.